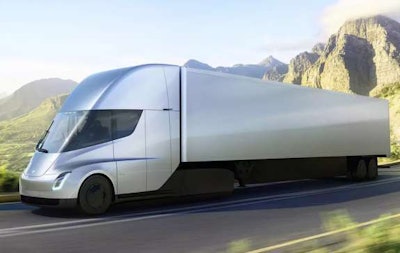 A North American truckload carrier placed a major order for electric trucks, and a major manufacturer just announced it's electric tractor will be available early next year.
Pride Group Enterprises recently announced it has reserved 150 Tesla Electric Semis with the option to increase to 500 trucks. Earlier this week Peterbilt announced its new Peterbilt 579EV, which features an all-electric powertrain, is available for customer orders. Production of the trucks is expected to start by the second quarter of 2021.
Sam Johal, Pride Group Enterprises CEO, announced the company has placed a deposit to secure the initial units and build slots.
"With support from one of our long-term financial partners, Hitachi Capital, we are very excited to bring this innovative product to our strong customer base helping forge a new path in clean transportation. We believe that electrification is the way of the future as we work together across multiple industries to reduce our carbon footprint," said Johal. "As well, we have the option to increase our order as we gauge customer acceptance of this new technology."
The allocation of units will be determined by Pride with special consideration in states and provinces with the most welcoming electric commercial vehicle environment, such as California.
Pride Group Enterprises operates businesses in equipment rental, leasing, logistics, and sales, and the company has said it has plans to deploy the electric Class 8 trucks assets across all business divisions. It operates about 260 power units.
Pride Group Enterprises is a privately-held, diversified company with 12 locations in the U.S. and Canada.
Peterbilt 579EV begins production in Q2 of 2021
The new Peterbilt 579EV, which features an all-electric powertrain, is now available for customer orders, the company announced Tuesday. Production of the trucks is expected to start by the second quarter of 2021.
Customers can spec a 579EV using Peterbilt's SmartSpec sales tool at any Peterbilt location across North America.
The all-electric powertrain uses thermally-controlled Lithium Iron Phosphate battery packs to provide a range of up to 150 miles. When used with a recommended DC fast charger, the packs recharge in 3-4 hours.
The 579EV is available in a tandem drive configuration with Meritor 14Xe e-axle motors providing power through the drive inverters. Regenerative braking captures energy from stop-and-go operations to help recharge the batteries and maximize the truck's range.
Volvo begins production of VNR Electric early next year
Volvo Trucks today announced it will begin producing the Volvo VNR Electric model at its New River Valley manufacturing plant in Dublin, Virginia in early 2021.
"Volvo Trucks is committed to lead the commercial transport industry towards more sustainable solutions by advancing electromobility. We will continue to invest in and drive the development of this technology, both globally and right here in North America," said Peter Voorhoeve, president of Volvo Trucks North America. "We are excited to bring the Volvo VNR Electric to the market in just a few weeks."
Volvo announced it will offer a complete range of electric heavy-duty trucks in Europe in 2021, and that during this decade this will be followed by the development of electric vehicles for heavy long-haul operations, including battery-electric and fuel-cell electric trucks with a longer range. Volvo Trucks plans to start selling electric trucks powered by hydrogen fuel cells in the second half of this decade, and the objective is to have a fossil-free product range by 2040, according to a statement from the company.