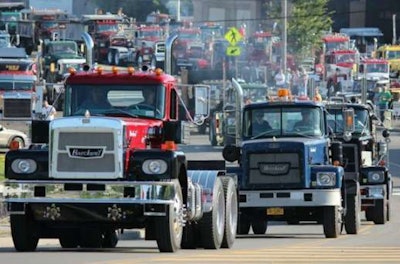 A major truck show will be slightly different when it convenes next month.
The 22nd annual Brockway National Truck Show will have a new location when owners and fans of these vintage vehicles converge on Central New York Aug. 11-14.
Because of construction, the route for the parade of trucks and the actual show itself will be altered. The parade on Saturday morning, Aug. 13, will start at the Central New York Living History Museum as in years past, but instead of proceeding to downtown Cortland, trucks will drive to the nearby village of Homer where they will be on display.
This village has a strong Brockway connection. It's where William Brockway started his furniture business, which led to the carriage business that eventually manufactured trucks.
The rest of the weekend's activities remain the same as in years past.
The schedule includes:
Thursday, Aug. 11: Brockway Ice Cream Cruise In at 6 p.m.
Friday, Aug. 12: Husky Drive at 11 a.m.; Italian dinner at the museum at 5:30 p.m.; live auction at 7 p.m.; fireworks at 9:30 p.m.
Saturday, Aug. 13: truck parade starting at 8:30 a.m.; truck show from 9 a.m. to 3 p.m.; awards presentation at 3 p.m.; barbeque dinner at the museum at 5 p.m.
Sunday, Aug. 14: pancake breakfast and cruise in at the museum at 8 a.m.
Brockway trucks were built in Cortland, New York from 1912 to 1977. The company was sold to Mack in 1956.