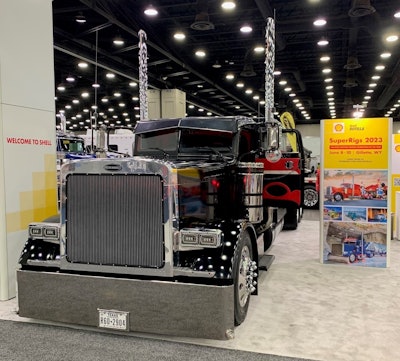 Shell Rotella announced that the 41st Shell Rotella SuperRigs competition this year will be held in Wyoming for the first time ever.
The truck beauty contest will be held June 8-10 at CAM-PLEX in Gillette, Wyoming. Located off Interstate 90, CAM-PLEX is the state's premier multi-use facility. It encompasses over 1,000 acres of land and features a theatre, a convention/exhibit hall, two multi-purpose pavilions, a racetrack, rodeo grounds, more than 1,700 RV sites, and a 21-acre park and picnic area.
There are numerous events and activities being planned that will honor hardworking truckers. Highlights include:
Contestant dinner
Truck lights competition
Fireworks
Truck parade
Musical entertainment
Shell Rotella SuperRigs competitors will vie for 24 awards including Best Chrome, Best Lights, and Best of Show. Hardworking owner/operator truckers from across the United States and Canada will compete for more than $25,000 in cash and prizes. Twelve deserving drivers will be selected to have their trucks featured in the 2024 Shell Rotella SuperRigs calendar, which will also feature views from the area surrounding Gillette.
RELATED NEWS: Another look at the super rigs at 2022 Shell Rotella's SuperRigs show
There is no fee to enter SuperRigs and the weekend is designed to be fun for the whole family. Stay tuned for more information as festivities are finalized and a pre-registration link is provided.
Pre-registration is recommended. Follow Shell Rotella® on Facebook, Twitter, and Instagram for updates on SuperRigs and Shell Rotella products and programs.