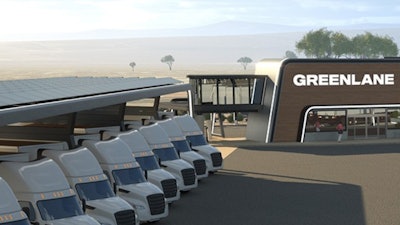 Greenlane
Daimler Truck North America, LLC, NextEra Energy Resources, LLC and BlackRock Alternatives, through a fund managed by its Climate Infrastructure business, has announced Greenlane, the name of their joint venture to design, develop, install, and operate a nationwide, high-performance zero-emission public charging and hydrogen fueling network for medium- and heavy-duty battery-electric and hydrogen fuel cell vehicles.
Greenlane said it addresses the growing need for a publicly available, nationwide electric charging infrastructure for commercial vehicles, especially for long-haul freight operations, and is a critical step toward developing a sustainable zero-emission vehicle ecosystem across North America.
The more than $650 million joint venture has made significant progress since its inception in 2022. Greenlane's first site will be in Southern California, and multiple additional sites are being acquired along various freight routes. Dedicated software and hardware teams are working on developing a custom, commercial vehicle reservation platform to provide fleet managers, dispatchers, and drivers with what the company said will be an industry-leading customer experience.
The network of charging sites will be built on critical freight routes along the east and west coasts and in Texas. Greenlane said it will also leverage existing infrastructure and amenities while adding complementary greenfield sites to fulfill anticipated customer demand. Greenlane's initial focus will be on battery-electric medium- and heavy-duty vehicles, followed by hydrogen fueling stations for fuel cell trucks, with plans to expand access to light-duty vehicles in the future to serve the greater goal of electrifying mobility.
"Greenlane is designed to begin to tackle one of the greatest hurdles to the trucking industry's decarbonization – infrastructure," said John O'Leary, president and chief executive officer, DTNA. "The nation's fleets can only transform with the critical catalyst of publicly accessible charging designed to meet the needs for medium- and heavy-duty vehicles."
The company did not say when it expected to begin work on installations.