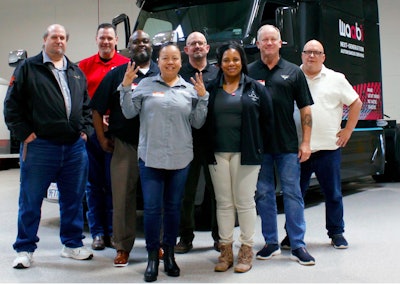 An autonomous truck technology maker has created an advisory board of seven experienced truckers, all with more than 1 million miles of safe driving to their credit.
San Francisco-based Waabi held the first meeting of the driver advisory board for two days in March.
Writing in a blog post on the company's website, Waabi Head of Transportation Dustin Koehl said, "In the two days of programming, these world-class drivers made it abundantly clear that road safety is their top priority. They graciously and enthusiastically offered their own safety expertise and wisdom, knowing these insights would eventually find their way into our virtual Waabi Driver and ultimately protect the motoring public once this technology is deployed at scale."
Drivers on the advisory panel include:
Marcus Carter, Sr., Warrior Logistics, Driver Manager & Recruiter, 23 years experience, 2 million miles
Jack Fielding, Bison Transport, Driver, 25 years experience, 3 million miles
Larry Holmes, US Xpress Variant, Driver, 31 years experience, 3 million miles
Anita Lee, Total Transportation of MS, Driver Trainer,10 years experience, 1 million miles
Josh Nichols, Paper Transport, Driver Trainer, 22 years experience, 2.75 million miles
Steve Peters, Trimac, Driver, 23 years experience, 2 million miles
Jacqueline Vasquez, CRST, Driver15 years experience, 1 million miles
Waabi continues to seek driver involvement. It said on its website, "If you or your fleet is interested in nominating one of your best drivers to participate in the important work of our Million Mile Driver Advisory Board, please reach out to partnership@waabi.ai."
Waabi unveiled trucks equipped with its Waabi Driver technology in November of 2022.