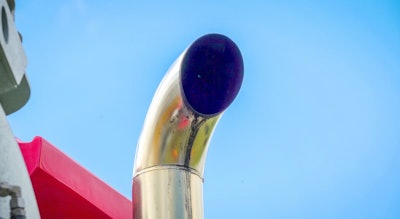 President Joe Biden Wednesday vetoed a congressional resolution that would have rolled back the latest emissions standards for heavy-duty trucks.
The veto preserves the Environmental Protection Agency's standards, that would have taken effect with 2027 model vehicles.
The Senate narrowly passed the rollback resolution in April, and the House followed suit in May. An override of Biden's veto would require a two-thirds vote in each house.
The EPA, which adopted the new standards in December, said they were "significantly more stringent and that cover a wider range of heavy-duty engine operating conditions compared to today's standards," The agency targets heavy-duty trucks because they contribute to concentrations of ozone and particulate matter, which endanger the public's health.
The trucking industry has voiced opposition to the new standards, saying they would add the price of new trucks. Trucking organizations also said the industry has already made significant progress in reducing emissions.
RELATED NEWS: Republican senators seek to overturn new EPA truck emissions standards