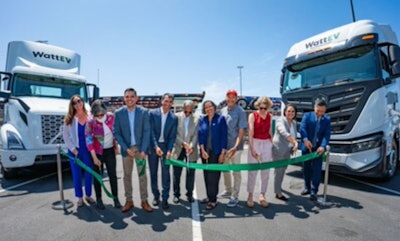 WattEV
WattEV, a major commercial truck charging infrastructure developer, recently opened what the company said is the largest charging station of its kind for electric heavy-duty trucks at the Port of Long Beach.
The site features 13 dual-cord CCS 360KW chargers with the ability to charge 26 trucks concurrently with 5MW of power provided by Southern California Edison.
"There was a tremendous amount of effort that went into getting this site operational within 14 months," said WattEV co-founder and CEO Salim Youssefzadeh at the July 24 opening ceremony. "WattEV has been working on opening four depots in California for the past few years. The Long Beach depot was actually the last of the four to go under contract and into development, but it's the first to open."
The charging depot is located adjacent to the Pier-A terminal in the Port of Long Beach and will serve heavy-duty electric trucks with routes connecting to inland destinations throughout Southern California.
The Long Beach project is the first of several WattEV electric truck charging depots in the works throughout California, including warehouse districts in nearby Gardena, inland near San Bernardino, and north in Bakersfield. The Long Beach depot will serve as the southern anchor of WattEV's planned electric-truck charging freight corridor, which will incrementally connect to major freight routes throughout the West.
The new charging depot will serve WattEV's growing fleet of electric trucks operating on its Truck-as-a-Service platform, hauling freight to and from the combined ports of Long Beach and Los Angeles, which receive some 40 percent of the nation's containerized imports.
WattEV said its goal is to get 12,000 heavy-duty electric trucks on California roads by the end of 2030, exceeding existing forecasts.