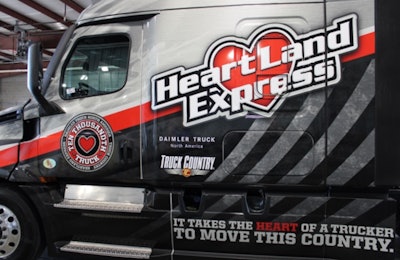 Heartland Express
Heartland Express, Inc. received its 10,000th Freightliner tractor in North Liberty, Iowa during the company's driver appreciation event Wednesday, July 12,
John O'Leary, President and CEO of Daimler Truck North America was on hand to present the truck to Mike Gerdin, President and CEO of Heartland Express.
"Heartland Express has been a long-standing partner of Daimler Truck and Freightliner and we're very pleased to present their 10,000th truck," said O'Leary. "Our relationship goes back decades, and we look forward to a long and successful future together."
Heartland's Chairman and CEO Mike Gerdin accept the specially-wrapped truck,
"Heartland Express and Freightliner have been working successfully together for a long time and this is a huge milestone for our company," said Gerdin. "We rely on our equipment to keep our drivers safe and allow us to provide award-winning service that we are known for across our industry. Our drivers love Freightliner for their comfort, reliability, and safety. We want to thank Daimler Truck North America, Freightliner, McCoy Group, and Truck Country for their partnership over the years."
Heartland Express is an irregular route truckload carrier based in North Liberty, Iowa serving customers with shipping lanes throughout the U.S. and Mexico. Heartland said it focuses primarily on regional freight, offering shippers on-time service so they can achieve their strategic goals for their customers.