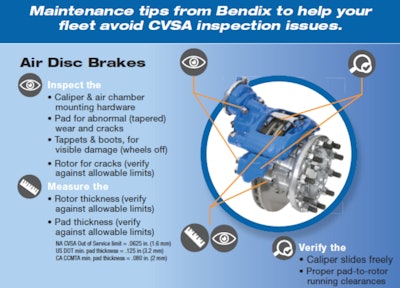 Bendix
Come Sunday, Aug. 20 and for the rest of next week, law enforcement officers and commercial vehicle inspectors across North America will take a considerable interest in how your truck comes to a stop.
That's because the Commercial Vehicle Safety Alliance's annual Brake Safety Week will be held in the U.S., Canada and Mexico.
Last year, officials inspected 38,117 commercial motor vehicles, placing 5,059 of them -- or 13.3% -- out of service. In the U.S. 34,402 vehicles were inspected and 4,664 -- or 13.6% -- were sidelined by inspectors.
During Brake Safety Week roadside inspectors will conduct North American Standard Inspections, which cover a range of driver qualifications, documentation, and vehicle equipment conditions. They'll be checking for:
Missing, nonfunctioning, loose, or cracked parts
Holes caused by rust and through rubbing or friction
Broken springs in the spring brake housing section of the parking brake
Air leaks around brake components and lines
Air pressure in the target range of 90-100 psi
Proper pushrod travel
Slack adjusters not at the same length
Mismatched air chamber sizes across axles
Warning device functionality (such as antilock braking system indicator lights)
Proper operation of the tractor protection system, including the bleed-back system on the trailer
The breakaway system being operable on the trailer
Inspectors will also keep a special eye out for contaminated, worn, cracked, and missing linings or pads – the focus of this year's Brake Safety Week.
"Out-of-service violations are situations that present actual hazards to roadway safety for the drivers and everyone around them – and so many of these violations are preventable through proper maintenance practices and regular equipment examination," said Fred Andersky, Bendix director – demos, sales, and service training. "Brake Safety Week is an industry touchpoint for good reason: What goes on at the wheel-ends and in the braking system is critical to so many aspects of safe vehicle operation, including optimal performance of today's higher-level safety systems like full stability and collision mitigation. You simply can't overstate the importance of keeping up with maintenance and inspection of those areas."
RELATED NEWS: Unannounced brake inspection blitz leads to 679 CMVs out of service
Mark Holley, Bendix director of marketing and customer solutions, Wheel-End, offers these tips for having an uneventful Brake Safety Week and a safer time on the highway.
Every day:
Check for damaged or loose-hanging air chambers, pushrods, or slack adjusters.
Make sure slack adjusters on each axle are extended out to the same angle. Different angles can indicate an out-of-adjustment brake or a broken spring brake power spring.
Examine tubing and hose condition, positioning, and connections.
Every week:
Perform a 90- to 100-psi brake application with the wheels chocked and the parking brakes released, and listen for leaks.
Check air disc brake rotors for cracks.
Inspect drum brake linings for wear and cracks.
Every month:
Check for moisture in the air system to prevent contamination that leads to component deterioration and system leaks.
Any time you've got a vehicle in the shop, it's also worth greasing the S-cam brake tubes and automatic slack adjusters. This quick process helps prevent rust and corrosion, and it helps keep the slack functioning properly.