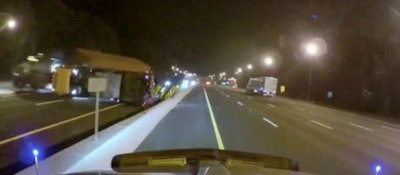 A bizarre crash early Tuesday morning involved three tractor/trailers, a box truck and two New Jersey Department of Transportation attenuator trucks, but somehow resulted in no serious injuries. The mishaps occurred on I-80 near mile post 35.3 in Rockaway.
At about 3:14 a.m., the driver of tractor/trailer told police his brakes failed, eventually causing the vehicle to strike the back of a box truck, which overturned.
Another tractor/trailer hit the overturned truck, bounced off and hit a New Jersey Department of Transportation attenuator truck, which was on the scene for construction. That tractor trailer also flipped, pinning the driver inside.
Another tractor/trailer tried to avoid the other accidents and struck a second DOT attenuator truck, flipped and landed on an embankment.