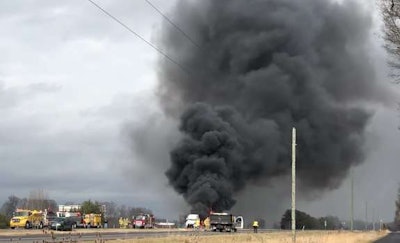 A collision early Wednesday involving three tractor-trailers on southbound I-65 in Indiana closed travel on the interstate for much of the day, damaged the highway and prompted officials to suggest nearby residents evacuate their homes.
According to numerous media reports, one truck struck two others that had stopped for an earlier accident at about 4:30 a.m. near Seymour, Indiana, which is about halfway between Indianapolis and Louisville. One of the trucks was carrying four different chemicals, some of which were said to have leaked.
At about 12:25 p.m. the truck carrying the chemicals caught fire, sending up a huge cloud of black smoke. The fire was allowed to burn itself out. It wasn't until shortly after 6 p.m. that the fire was out and repairs began on the highway surface.
Only one non-life-threatening injury was reported. None of the truck drivers involved in the mishap were identified.