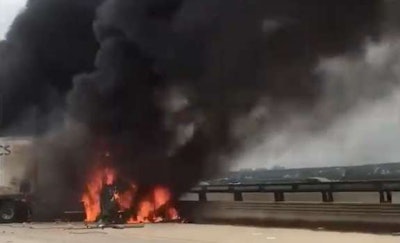 A trucker died Wednesday morning when his truck collided with several construction vehicles working on the Woodrow Wilson Bridge in Maryland.
One of the vehicles involved in the mishap was a bucket truck, which had its boom extended when it was struck, leaving three workers stranded under the bridge. They were rescued without injuries, according to numerous media reports.
The name of the truck driver was not released.
The collision caused traffic problems for most of the day. The Maryland State Highway Commission reported that northbound traffic on Interstate 95 was backed up for about 12 miles into Virginia.
The Woodrow Wilson Memorial Bridge spans the Potomac River between Alexandria, Virginia, and Prince George's County, Maryland. It carries Interstate 95 and I-495, the Capital Beltway.
More than 100 firefighters from four departments responded.
MUTUAL AID | Multiple AFD units assisting Prince George's County on a major fuel truck fire on the inner loop I-95/495 on Woodrow Wilson Bridge | All lanes blocked pic.twitter.com/D0Kvmw9AOm

— AFD Response (@AFDResponse) June 20, 2018
MUTUAL AID | Multiple AFD units assisting Prince George's County on a major fuel truck fire on the inner loop I-95/495 on Woodrow Wilson Bridge | All lanes blocked pic.twitter.com/D0Kvmw9AOm

— AFD Response (@AFDResponse) June 20, 2018