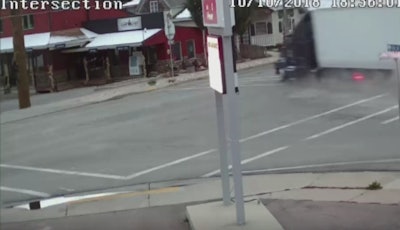 Investigators in Utah are still trying to figure out the cause of a crash Wednesday that killed the driver of a tractor-trailer and heavily damaged the sporting goods store into which it slammed.
Reports say the truck, driven by Ahmed M. Abdelgader, 31, of Omaha, Nebraska, ran a stop sign, jackknifed, and rolled on its side before slamming into the Pugstones sporting goods store. Abdelader was taken to a nearby hospital where he died overnight. An unidentified passenger in the truck was hospitalized.
The mishap occurred at the intersection of U.S. Highway 89 and state Route 30 at about 6:30 p.m.
The owner of the sporting goods store said the building will be demolished. No one was in the store at the time of the crash.
A traffic cam near the intersection captured the crash.