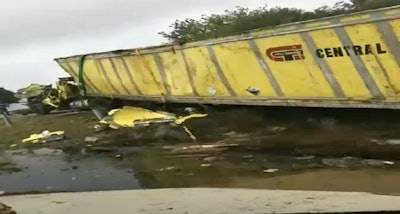 An Arkansas truck driver survived a horrendous crash that left him trapped underwater for more than an hour and a half earlier this month. Jerry Faggett was headed home to West Memphis from St. Louis when his tractor-trailer hydroplaned and crashed into a water-filled ditch.
Once he was rescued, he still needed to be hooked up to an extracorporeal membrane oxygenation machine, which pumps the patient's blood outside the body while the lungs and heart recover.
Faggett continues his recovery but remains optimistic.
"It's a long road to recovery, and I've still got a long way to go. But I'll get there'" Fagget told KY 3 TV of Springfield, Missouri.