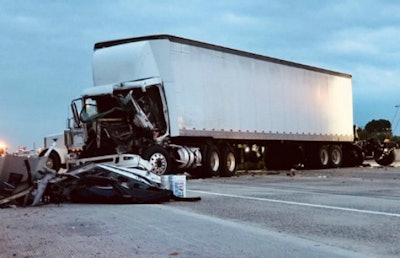 One truck driver died when three tractor-trailers and another vehicle collided on a California highway in the early morning hours of Thursday, Sept. 26.
The crash occurred at about 3 a.m. on the 10 Freeway in West Covina, which is east of Los Angeles.
The Los Angeles Times reports a Honda Civic had stopped on the freeway and the driver of a tractor-trailer behind it stopped to avoid hitting the car. A second truck behind them also stopped, but a third tractor-trailer pulling double trailers failed to stop causing the chain-reaction collision.
The 52-year-old driver of the second tractor-trailer died. The driver was not identified by police, who continue their investigation.
I-95 accident in Delaware involves three cars and tractor-trailer
Delaware State Police report a tractor-trailer did not stop for traffic congestion on Interstate 95 in Newark, Delaware Tuesday afternoon, Sept. 24. The driver of a Toyota Highlander slowing for stopped traffic died in the multi-vehicle crash.
DSP reports traffic had stopped on southbound I-95 and the Toyota was slowing, as was a Honda behind it, and a Nissan behind the second car. A 2014 Kenworth, operated by a 39-year-old Fairmont, North Carolina, failed to stop, striking the Nissan and forcing it into the left lane. The truck continued on, hitting the Honda and the Toyota before crashing through the diving barrier, flipping onto its side and coming to rest in parts of both the southbound and northbound lanes.
The driver of the Nissan, 61-year-old Albert Frankle from Middletown, Delaware died in the collision. Police report a 9-year-old girl who was in the Hinda died in a hospital the next day. The drivers of the other vehicle, and the trucker, sustained injuries.
DSP says its investigation continues.
FedEx driver dies in Florida crash
The driver of a FedEx box truck driver was killed Thursday morning, Sept. 26, in a head-on crash in Seminole County, north of Orlando.
The Florida Highway Patrol said the crash occurred just before 9:40 a.m. on Snow Hill Road at Winding River Lane. According to the FHP, a 20-year-old Deltona man was driving a Chevrolet pickup truck north on Snow Hill Road when the vehicle traveled into the southbound lane for an unknown reason and hit the front of the FedEx truck. The FedEx driver died at the Oviedo Medical Center, according to the FHP.
We are #investigating a 4-vehicle #traffic collision with a #fatality on the eastbound I-10 #freeway in West Covina. At this time, all eastbound lanes are closed. Please avoid the area &use an alternate route.#fatalaccident #chp #news #bigrig #crash #hospital #California pic.twitter.com/D7gCEMrzPM

— CHP Baldwin Park (@CHPBaldwinPark) September 26, 2019