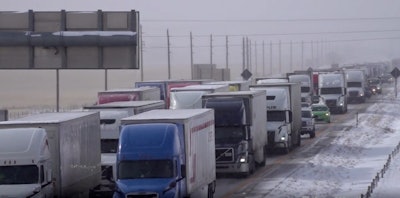 Winter has made an early and nasty arrival for much of the U.S. and other forms of bad weather continue to cause problems for truckers, especially in the West.
Parts of Interstate 70 in and around Denver were closed Wednesday, Oct. 30 as snow blanked the Mile High City and other locations in Colorado. In California, Santa Ana winds toppled trucks on the 15 Freeway near the Cajon Pass in San Bernardino County Wednesday morning, and the 60 Freeway in Jurupa Valley, California was closed by wind-swept fires.
The National Weather Service has forecast unusually high and dry Santa Ana winds, which have been clocked at between 70 and 80 mph.
Record snow fell on Chicago, Madison, Wisconsin and other parts of the Midwest Wednesday. Temperatures are expected to drop into the 20s and wind chills could make it feel like the teens, according to Accuweather forecasters. Wednesday's snow is expected to melt tonight and tomorrow morning and cause difficult driving conditions.
Elsewhere, heavy rains are expected to disrupt travel and cause flooding from the upper Gulf Coast to northern New England today and through the weekend.
And, with winter here for some and in the offing for others, it's a good idea to review each state's chain laws. This list comes courtesy of the Kansas Motor Carriers Association.
Critical weather conditions (dry and windy) will be a threat to parts of California again on Tuesday. @NWSSPC @NWSSacramento @NWSBayArea @NWSLosAngeles @NWSSanDiego @NWSEureka @NWSHanford @NWSMedford pic.twitter.com/ljbeMtDv9U

— NWS Western Region (@NWSWestern) October 28, 2019
___
David Hollis is editor of Truckers News and is pleased he has yet to see snow where he lives in Upstate New York. Hollis can be reached at davidhollis@randallreilly.com .