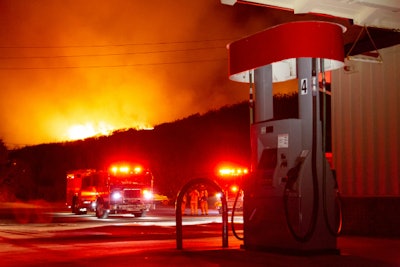 The Federal Motor Carrier Safety Administration Monday, Oct. 28, issued a regional emergency declaration in response to the wildfires in California. This comes after Gov. Gavin Newsom issued a statewide state of emergency Sunday, Oct. 27.
The FMCSA said its action grants regulatory relief to commercial motor vehicle operators who provide direct assistance for emergency relief efforts. That includes those truckers transporting supplies, goods, equipment, and fuel into California, transporting persons into and from the state, or providing other assistance during the emergency caused by the wildfires.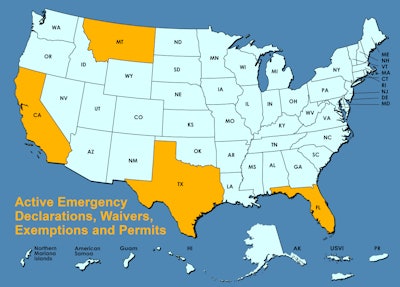 The FMCSA's declaration remains in effect for the duration of the emergency or until 11:59 P.M. (ET), Nov. 27, whichever is less.
See complete declaration here.
Current wildfires have burned thousands of acres, forced thousands of people to evacuate their homes, destroyed hundreds of houses and businesses, closed schools and caused power outages.
The Kincade Fire, the state's largest active wildfire, has scorched more than 75,000 acres in and near northern California's Sonoma County since it started Oct. 23. So far more than 100 structures have been destroyed, another 20 have been damaged.
Firefighters have contained only 15% of the blaze.
The Getty Fire in Los Angeles County has burned more than 600 acres. Eight residences have been destroyed and six have been damaged. At least 10,000 residences remain threatened by the fire.
The Tick Fire continues to burn over 4,600 acres. The fire started Oct. 24.
Because of fire risks, Pacific Gas & Electric said it will interrupt power to about 596,000 customers in 29 counties in central and northern California by tonight.
More than 26 million people from California to Arizona are under red flag warnings, which mean winds, temperatures and humidity are ripe for fire danger.
Critical weather conditions (dry and windy) will be a threat to parts of California again on Tuesday. @NWSSPC @NWSSacramento @NWSBayArea @NWSLosAngeles @NWSSanDiego @NWSEureka @NWSHanford @NWSMedford pic.twitter.com/ljbeMtDv9U

— NWS Western Region (@NWSWestern) October 28, 2019