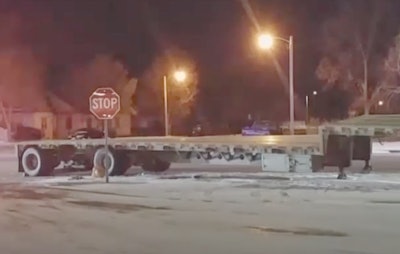 A Canadian trucker was arrested in Nebraska earlier this week after leading police on a chase that ended with the tractor-trailer crashing at an airport.
KNEP-TV reports Henry Geroge Funk, 35, of Alberta, Canada, was charged by Scottsbluff, Nebraska police with DUI, flight to avoid arrest and leaving the scene of an accident. Funk is said to have struck a pole and fire hydrant with his truck Wednesday, Oct. 30 at about 10:30 p.m. When police saw him turning around in a parking lot, Funk fled, driving at speeds in excess of 65 mph.
Funk eventually drove through a fence at the Western Nebraska Regional Airport and across runways before hitting a pole and coming to a stop.