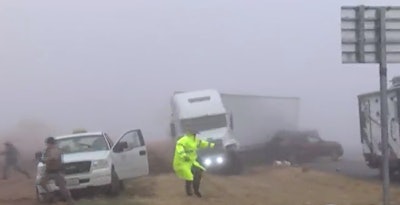 Two people were injured — including a Texas state trooper — when a tractor-trailer slammed into a stopped vehicle and then crushed a police car on eastbound U.S. 84 in northwest Texas Friday, Dec. 27.
The crash occurred Friday morning as dense fog covered the area near Slaton, about 120 miles south of Amarillo.
Police were on the scene of an earlier accident when a tractor-trailer could not stop for an SUV towing a travel trailer. The trucker hit a stopped pickup, swerved off the highway, and toppled over with the trailer crushing a stopped police car.
A film crew from KCBD TV was on the scene and the trailer stopped skidding just short of them.
None of the drivers involved were identified and the conditions of two people injured were not released.