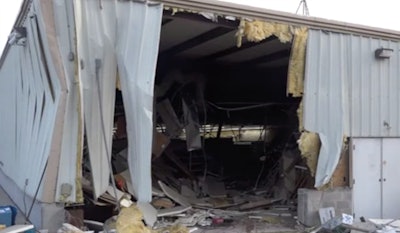 A tractor-trailer loaded with fireworks drove off a highway in central Missouri Thursday, Dec. 26, and crashed through the side of a supermarket injuring five people inside. The driver, who was not identified, told a store employee he may have had a medical issue and passed out before running off eastbound U.S. 54, hitting a pickup in the parking lot and then driving through the side of the Five Star Supermarket in Hermitage, about 65 miles north of Springfield.
The crash occurred just before noon when the supermarket attracts a large lunch crowd. The longtime manager of the store told KY3 "it sounded like a bomb went off."
Truck drives up embankment and hits overpass
Also on Thursday, a tractor-trailer left southbound U.S. 23 in Michigan, slammed into an overpass and burst into flames. The crash occurred at about 1:45 p.m. in Fenton, which is about 15 miles south of Flint.
The truck's driver suffered minor injuries. The crash remains under investigation.