2019 has been nothing if not eventful for the trucking industry. Mega carrier Celadon abruptly closed its doors, leaving thousands of truck drivers and office staff without jobs. Raymond Martinez, who took helm of the Federal Motor Carrier Safety Administration in 2018, abruptly announced his resignation. The FMCSA announced proposed changes to hours of service regulations.
This year was jam-packed with news and events, but these ten stories caught your interest more than any others:
1. Truckers busted for hauling $2 million of cocaine
Indianapolis Metropolitan Police Department officers Sept. 8 arrested 57-year-old Gurindes Sing and 55-year-old Jagdev Sanda when a search of their tractor-trailer revealed they were in possession of $2.1 million in cocaine.
2. Unenforced 34-hour restart limits removed by FMCSA
The FMCSA on Sept. 11 officially removed limitations on the use of a 34-hour restart enacted in 2013. The regulations, which had not been enforced since December 2014, limited truck drivers to one restart per week and required the restart to include two 1-5 a.m. periods.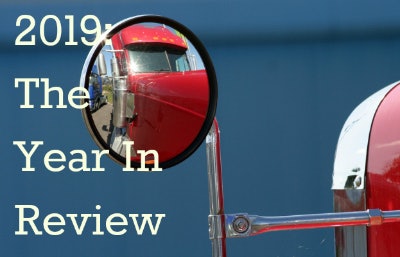 3. Celadon closes, promises to get drivers home
Celadon Group announced at midnight on Dec. 8 that it would be ceasing operations and filing Chapter 11 bankruptcy. Svindland blamed multiple factors for the company's demise, including the ongoing legal troubles and expenses surrounding its financial scandal uncovered in 2017 and its debts.
4. Fire destroys four trucks at Indiana truck stop
Four tractor-trailers were destroyed in a fire in March at a truck stop in Indiana. Firefighters responded at about 7:50 a.m. and found the four trucks — all unoccupied — fully engulfed in flames.
5. Trucker shot and killed on I-20 in Texas
The abrupt and violent death of one of their own caught drivers' interest in April. Arrested and charged with murder, aggravated assault causing serious bodily injury and aggravated assault with a deadly weapon was 20-year-old Brandon Christopher Madrid from Odessa.
6. Trucker mows down two telephone poles, arrested for DUI
A 57-year-old Rhode Island trucker was arrested Aug. 5 in Duquesne, Pennsylvania, for driving under the influence after he knocked down two telephone poles.
7. Independent truck stop in Nebraska closes
A major independent truck stop in Nebraska closed its door after being in business for some 50 years.
8. Video of trucker blocking lane draws praise, complaints
Truckers had mixed reactions to the actions of a fellow driver who blocked traffic from merging near an accident. The trucker prevented other drivers from using a "zipper style" merge in which drivers take turns getting over when traffic goes down to one lane.
9. Violations of federal trucking regulations increase today
The U.S. Department of Transportation announced July 30 that it had increased fines across the board for violations of federal trucking regulations.
10. Truckers organizations react to proposed hours changes
The trucking industry's response to the Federal Motor Carrier Safety Administration's announcement of changes to federal hours of service regulations was largely positive, but not so much for many individual drivers.