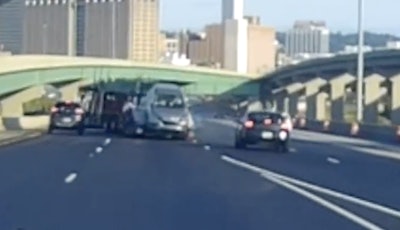 Dashcam video released Monday, Oct. 19, by the Birmingham (Alabama) Police Department shows the fatal hit and run collision that killed a trucker earlier this month.
The accident occurred Oct. 6 at 5:02 p.m. at Interstate 59 North/Interstate 59 South. Police investigations show the accident occurred when a white vehicle struck a small silver sedan. The silver car was thrown into a tractor-trailer, which then stuck a black SUV. The trucker was pronounced dead on the scene.
Officers said the driver of the white vehicle left the accident scene. Police are asking for the public's assistance in identifying the white vehicle and the driver involved in the accident.