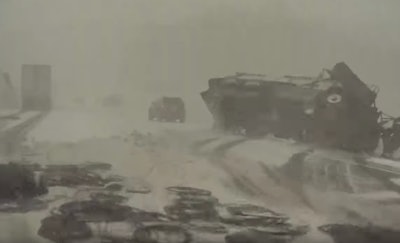 A late blast of wintery weather helped cause some 20 collisions in Wisconsin Wednesday, April 21, including one on Interstate 41 in Slinger that involved 48 vehicles including several tractor-trailers and a snowplow.
The massive pileup on I-41 about 30 miles northwest of Milwaukee claimed the life of a 37-year-old woman from Tennessee and sent at least six other motorists to the hospital.
A dramatic dashcam video captured the moment a tractor-trailer and a snowplow collided. The snowplow is thrown off the right side of the highway and the tractor-trailer crashes into the median.
The video captures the near-whiteout conditions that occurred at the time of the collision.
Part of I-41 was closed until after 8 p.m. Wednesday night.