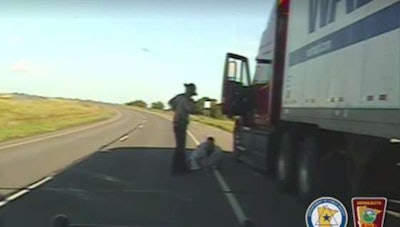 A Minnesota truck driver is facing charges after driving while intoxicated after being pulled over by state police.
The Minnesota Department of Public Safety released a video of the trucker stumbling out of his truck, rolling and crawling on the ground, blocking one lane of traffic.
The incident occurred July 16 but the video was just recently made available to local news station Fox 6. The driver, Joseph Czech, 45, of Isle, Minnesota, was stopped by troopers on Highway 10 after swerving across the highway.
Police said Czech's breath test showed his alcohol levels as 0.28, which is over three times the legal driving limit for motorists. This would be the second drunk driving charge on his record, according to the police.