And, now for a little good news.
Too many are the times we read about a trucker's ride-along pet running off from an accident scene or at a stop along the driver's trip. And, too many of those stories end with the dog never finding its way back to its owner.
That's not the case with Chris Robinson, a North Carolina trucker and Army veteran, and his emotional support dog, Blue.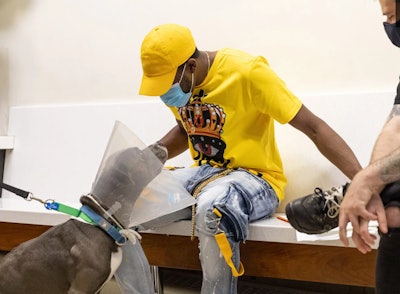 On June 9, Robinson and Blue had finished a delivery in New York City and stopped for a break. When Robinson opened the truck's door, Blue took off and just kept running. Robinson gave chase but to no avail. Robinson continued looking for the 2-year-old pit bull until he had to resume his trip back to North Carolina.
Fortunately, a Good Samaritan spotted Blue trying to jump over a median on the FDR Drive in Manhattan. The driver pulled over, cornered Blue, and opened his car door, and Blue jumped in.
The man then took the dog to the ASPCA's Community Veterinary Center in the Bronx, where the dog received veterinary treatment for some scrapes and abrasions. A volunteer at the center started looking at lost dog pages on Facebook and found a post about Blue.
Robinson returned to New York City and was reunited with Blue June 14.