BlueParrott next month rolls out what it says is "our most advanced wireless mono headset, engineered to give you excellent call quality for safe, hands-free communication behind the wheel."
The company says its B650-XT has Active Noise Cancellation and ultra-noise-cancelling microphone. Removing 96% of background noise*, the microphone allows you to make calls in the middle of a busy highway with the windows down and the music blaring, and know your voice will still come through loud and crystal-clear. With ANC, you can be sure to hear who you're talking to without having to crank the volume, so you can give your ears a rest and focus on the road, with no distractions. And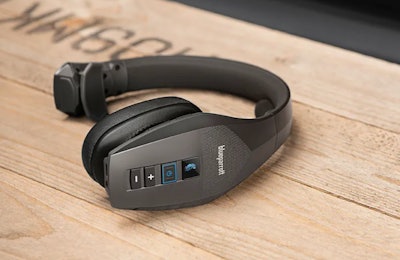 if you really want to get lost in a more immersive entertainment experience, the B650-XT is able to convert into the ultimate noise-cancelling stereo headset (2nd earcup available as an accessory).
Ideal for OTR drivers, the B650-XT delivers up to 36 hours of talk time, snd with up to 300 feet of wireless range, you can leave your phone behind and get out to stretch your legs without worrying about your connection dropping. The B650-XT also lets you connect to two devices, such as your smartphone and GPS, so you can concentrate on driving.
RELATED NEWS: New Gear Guide gets you ready for winter and the holidays
BleuParrott understands life on the road requires tools you can rely on. Te B650-XT is built to withstand a bit of rough treatment with its IP54-rated protection from dust and water.
The B650-XT is ergonomically designed with soft, flexible ear cushions and an adjustable headband for a comfortable fit.
With the BlueParrott Button, you can instantly access your most-used feature. This lets you speed dial your dispatcher, mute your mic, or use Push-to-Talk with your team, without fumbling around for your phone. And when you need to keep your hands entirely on the job, S650-XT is 100% voice-controlled, to allow you to search for music, make a call, get directions, and much more using only your voice.