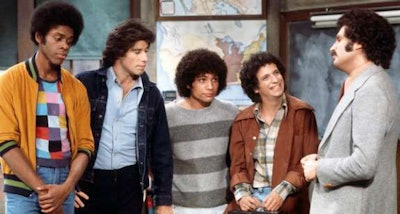 A slew of television shows – some old, some new – have just been released on DVD. There are enough to fill the longest layover. We'll start with a couple of golden oldies.
"Welcome Back, Kotter: The Complete Series" (16 discs, 95 episodes, featurette, screen tests; 28-page booklet). Gabe Kotter returns to his Brooklyn high school alma matter as a teacher, and get a class of misfits known as "sweathogs." The cast included John Travolta as Vinnie Barbarino. Kotter's wife is played by Marcia Strassman. The series aired from 1975 to 1979.
"The Men From Shiloh: Special Edition" (nine discs, 24 episodes, featurettes). This is the final season of TV's first 90-minute Western, "The Virginian," which had its name changed in the final year. James Drury is the Virginian and Doug McClure is Trampas.
"Murder in Suburbia: Complete Collection" (four discs, 12 episodes, photo gallery). Delightful British mystery series about two female police detectives who are completely unalike and are partners. Stars Caroline Katz and Lisa Faulkner. Think "Cagney & Lacey" with a British accent and no guns.
"Elementary: The Second Season" (six discs, 24 episodes, deleted scenes, featurettes, bloopers). This CBS show updates Sherlock Holmes as living in Manhattan and helping the NYPD solve homicides. Jonny Lee Miller is Holmes and Lucy Liu as Dr. Jane Watson.
"Now and Again: The DVD Edition" (five discs, 22 episodes, featurettes). This sci-fi series has a scientist (Dennis Haysbert) developing an artificial human body (Eric Close) to use as a spy.
"Haven: The Complete Fourth Season" (four discs, 13 episodes, audio commentaries, featurettes, webisodes, bloopers; 16-page comic book). Based on Stephen King's "The Colorado Kid," the show includes an engaging cast of Emily Rose, Lucas Bryant and Eric Balfour star.
"Criminal Minds: Season 9" (six discs, 24 episodes, deleted scenes, featurette, bloopers). The show focuses on an FBI unit capturing serial killers. Cast: Thomas Gibson, Jeanne Tripplehorn and Joe Mantegna.
"Deadbeat: Season One" (10 episodes, featurettes). Supernatural Hulu online sitcom about a New York man who sees dead people.
"75 Years of WWII" (two discs, five episodes). Four History Channel specials on World War II. It includes personal accounts from soldiers on both sides.