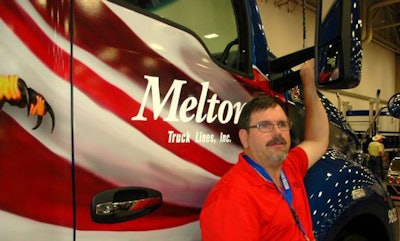 Spend any amount of time with Harry Welker, and you quickly get a solid sense of what kind of trucker he is, and also what kind of man.
This 51-year-old driver from Broken Arrow, Okla. talks about pride, about doing the right thing, hard work, safety and loyalty. And, about being a company driver for Tulsa-based Melton Truck Lines, Inc. (ranked 98th on Commercial Carrier Journal's Top 250 ranking).
Welker says he drove tractors on the family farm as a boy and steered a two-ton flatbed for his father's foundation business. He polished his skills as a combat engineer in the Marines ("Semper fi!" Welker adds when talking about his service to his country, and means it.) and worked eight years as a corrections officer.
For the last three years, Welker has driven for Melton, a flatbed specialist with almost 1,000 drivers. Today he is a driver/trainer/recruiter with more than 310,000 accident-free miles. He's a proud Blue Knight, a special honor for Melton drivers.
And, this spring the Truckload Carriers Association honored Welker as a Highway Angel. Just why he was chosen may very well be the truest measure of this man.
Late last October, Welker and a trainee were at a rest stop on I-70 near Kannapolis, Kan. As they walked to the restroom they noticed a Kansas Highway Patrol officer had pulled over a van for what they thought was a traffic violation.
Walking back to their truck, the two drivers saw the situation take a turn toward the potentially deadly. Welker said the man began to resist as the officer tried to put handcuffs on him, eventually attacking the lawman, punching and choking him. The suspect was struggling to get the officer's sidearm.
"Without even thinking, we took off," says Welker. "I'm 50 years old at the time, but it's amazing how much your training instantly comes back."
Welker and the trainee subdued the man; the trainee punching him and Welker putting him in a debilitating choke hold. Welker says he handcuffed the man twice, once in front and then in back after he was under their control. (He later found out the man was wanted for a parole violation; he eventually was returned to prison.)
"It was pretty intense," Welker says. "It could have been anybody. It happened to be us and we were there. The good Lord above had us there for a reason.
"If he had gotten that .40 caliber (pistol) out. We'd both be dead and so would the trooper."
Welker's pride shows when talking about the "honorary trooper" plaque he received from the Kansas State Highway Patrol. He remains surprised by a letter he received from a civilian employee in an Illinois county sheriff's office, who thanked Welker for his heroism. She mentioned she is the grandmother of a Marine.
But, Welker is quick to change the subject to the work he does for Melton as a trainer, and what he considers the most important lesson he has to offer.
"Everybody who gets into my truck, the first thing I say to them is 'Safety,'" says Welker. "Safety. Don't do it unless it's safe. Safety is everything.
"When you're working on that trailer and you're strapping that trailer or chaining those coils down, it's all about safety. Get your quality down first. Be sure you do everything right. And, safe.
"Do that from the beginning. A year down the road, your speed will come up. You will get used to doing it properly, doing it safely to begin with. When you do it safely, you've got a good, straight, paved road to be rolling on."
That outlook, as well as his performance on the road and what brought him to the company earned Welker a special place among Melton drivers: the seat behind the wheel of a new 2014 Kenworth T680, the company's special tribute truck honoring veterans.
"After more than three years of safe driving with Melton, Harry has a proven record of leadership, discipline and work ethic," said Angie Buchanan, Melton's VP of Human Resources and Safety. "In his Melton career, Harry wears many hats – Driver Trainer, Road Recruiter and President's Club Member.
"I am proud of his accomplishments here and of his previous military service. He was an obvious choice to display Melton's support and appreciation for our nation's veterans. Harry has always done a great job recruiting and training veterans and with his military background, we knew he deserved to drive this truck."
Welker repays the compliment:
"To me, without a doubt, Melton is the best trucking company. Our top driver makes 50 cents a mile. He's been there a while, but a new driver gets to 45 cents a mile quickly.
"Bob Peterson (Melton's president) believes in his drivers. If his drivers are not making good money then he's not making good money. He gives you the top of the line trucks. He listens to his drivers. He knows everyone."
Welker, who is married and has a daughter, also appreciates the honor of driving this special truck:
"Anyone who has helped to keep this country free, I'm driving this truck down the road in honor of them. If you see it going down the road, wave at me."
Details of Melton's 2014 Kenworth T680 Tribute to Veterans
PACCAR MX 430 hp multi torque engine
Fuller 10 speed direct dive transmission
76" Aerodyne sleeper, full height roof
Kenworth Air Cushion seats
Merritt Headache rack with chain box
60" toolbox
Double bunk
Flat screen TV mount
Refrigerator
APU
Inverter