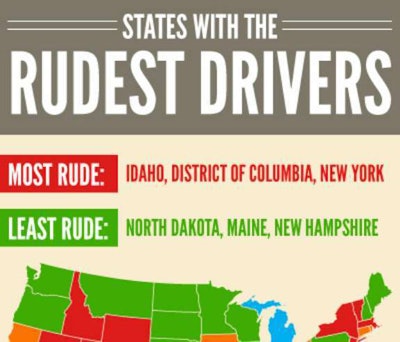 Idaho? Really?
A recent survey of 2,000 motorists by a major consumer insurance website claims Idaho has the rudest drivers — not truck drivers, mind you! — in the country.
The website insure.com says: "The roadways of Idaho present a dichotomy of drivers: Those who are moving so slowly that they're judged to be rude, and the aggressive drivers who speed around them and flip them off."
According to insure.com the top 10 states with the rudest drivers:
1. Idaho
2. Washington, D.C.
3. New York
4. Wyoming
5. Massachusetts
6. Vermont and Delaware (tied)
8. New Jersey
9. Nevada
10. Utah
OK, you live much of your lives on the road, do you agree? Which state do you think has the rudest drivers?