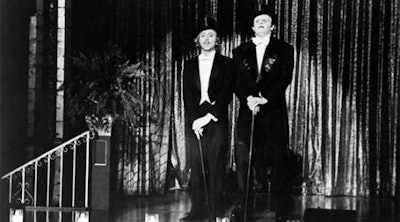 Young Frankenstein 40th Anniversary
Just in time for Halloween, this gem revisits Mel Brooks' 1974 classic comedy. It brings back Gene Wilder as the grandson of the mad scientist Baron Beauvort von Frankenstein ("It's pronounced Frankensteen."), Marty Feldman as his assistant Igor ("It's pronounced eye-gore.") and Peter Boyle as Dr. Frankenstein's monstrous creation. The film co-stars Cloris Leachman as Frau Blucher (insert the sound of a horses neighing wildly), Terri Garr as his assistant Inga and Madeline Kahn as Dr. Frankenstein's fiancé. Of course, the highest of highlights is Wilder and Boyle as the monster performing the classic song and dance number, "Puttin' on the Ritz." This anniversary release includes features, outtakes and commentary by the real mad genius himself, Mel Brooks. $7.99 on Blu-ray or DVD.
Check out this great LA Times story on how "Young Frankenstein" came to be.