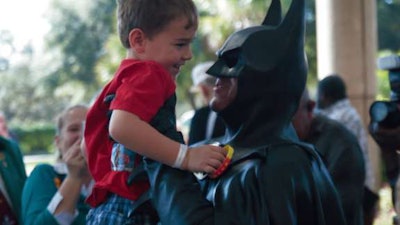 If you need a little reassurance that humankind, as we know it today is not circling the drain, pop this in the old DVD player or chase it down on Netflix or Hulu. This is a rarity: a "feel good" documentary and worth the time and money you might invest.
Legends of the Knight is not a Batman movie. Instead, it's a movie about the impact the character of Batman has had on people. In specific, it's about the "spirit" of Batman; a person being heroic while not having super powers.
Director/Producer Brett Culp interviews people around the country who were inspired by Batman to help others and in many instances help themselves. A little boy fighting cancer tells those caring for him that he is Batman. There is Petaluma Batman, an unknown average guy in California who dresses as Batman to dispense acts of kindness, and a therapist who uses Batman comics to help his clients.
Culp has a little bit of the Caped Crusader in his soul. He gives away "Legends of the Knight" to nonprofit organizations to show as a fundraiser.
Blu-ray $25 and DVD $16