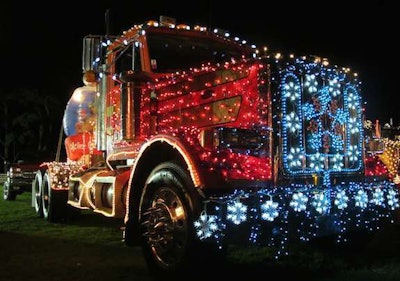 The Pacific Northwest leads the continent in holiday trucker parades, albeit some have expanded to include more than trucks.
California's best known truck parade is set for 6 p.m. Dec. 13 in Eureka. Since the '80s, truckers honking "Jingle Bells" have convoyed in heavily decorated trucks to raise money for local charities. Click here for more information on the Eureka parade.
Fort Bragg initiated its parade to pay tribute to the city's timber industry roots. The Lighted Truck Parade, now known as the Holiday Lights Parade, was held Saturday.
And Fortuna's parade has broadened to accept to even participants on foot, as long as they are festooned in lights. Its Electric Lighted Truck Parade kicks off at 6:30 p.m. Dec. 12.
Oregon's annual Timber Truckers Light Parade was begun in 1993 to honor the industry and its employees. Up to 70 trucks have participated in past events, with some sporting as many as 50,000 lights. Other lighted motorized vehicles can enter the Dec. 13 convoy, which starts at 5: 30 p.m. in Riddle and arrives 7:30 p.m. in Myrtle Creek.
Three more holiday truck events will take place just across the Canadian border on Sunday. British Columbia's parades help local food banks, while Ontario's convoy benefits local children's charities.
The Island Equipment Owners Association's 16th annual Truck Light Convoy and Food Drive will begin 5:45 p.m. in Victoria, B.C. The province also is home to Prospera Big Rigs for Kids, which starts at 6:30 p.m. in Surrey, located across from Blaine, Wash.
Across Lake Superior is Ontario's Thunder Bay, where the 15th annual Parade of Lights for Children will commence 7 p.m. Saturday.
However, it's the newest U.S. state that appears to have the longest running holiday parade.
The 54th annual Christmas Twilight Parade will be 5:30 p.m. Saturday in Waimea, Hawaii. Considered the state's second oldest parade, this year's theme is "Our Kupuna…Our Kuleana," meaning ancestor and personal responsibility respectively in Hawaiian.