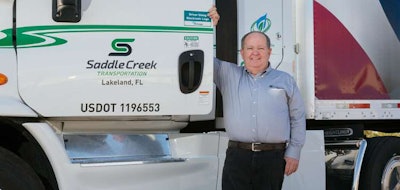 Interstate 95 heads just shy of 2,000 miles up the East Coast, connecting south Florida to northern Maine before skating across the border into Canada.
Johnny Chestnut knows just about every mile marker along this, the longest north/south highway in the U.S. He and his two brothers spent summers riding with their father, who hauled produce up I-95 from Central Florida to Baltimore, Boston and New York City.
Chestnut, now 57 and one of three finalists for the Truckload Carriers Association's Company Driver of the Year Award, did the same for much of his career, at a time when running produce was much more difficult and demanding job.
The sponsors for the Driver of the Year Contest are Love's Travel Stops and Cummins.
Today Chestnut drives out of Saddle Creek Logistics' home offices in Lakeland, Fla. He's been with the company 16 years, joining as the location's 35th driver; now there are 200.
Chestnut says he makes two or three runs each night, delivering mostly dry goods throughout Florida.
"If you can buy it at a Sam's Club store, we carry it," says Chestnut, who grew up in a truck driving family in Tennessee.
Chestnut says he learned to drive at the age of 13 or 14, and started driving legally at 17 in 1976 when he graduated high school.
"It's what I always wanted to do: drive truck," says Chestnut. "I guess it was in my blood."
His first job in the industry was for a small company that ran eight trucks around dairy farms in Tennessee and then to a processor in Florida.
After that, and like his father before him, Chestnut delivered the agricultural bounty of Florida to the hungry metropolitan markets of the Northeast.
"That was hard work then," recalls Chestnut. "You spent all night loading and then drove. They want their tomatoes fresh, so you only had so much time."
The upside to the work, says Chestnut, was driving with other truckers from North Carolina and Florida.
"We all ran together," says Chestnut. "We all knew each other and that was good."
Chestnut traded in the long hauls and long hours when he joined Saddle Creek.
"It was the best move I ever made coming to Saddle Creek," says Chestnut.
And, the company is just as pleased with him.
"He's the picture of what you want in a driver," says Saddle Creek's John Erwin, Vice President for Transportation. "He's experienced. He's safe. He puts our customers at the top of his list. Johnny takes care of us by taking care of our customers."
But it's more than just job performance that earns that sort of praise for Chestnut.
When he's not driving, Chestnut is an active volunteer in a variety of community organizations and charities, especially the Wreaths Across America program. He's out weekends raising awareness of and money for the trucking-supported charity that works to place remembrance wreaths on the graves of U.S. military veterans.
Of special interest for Chestnut is delivering wreaths just before Christmas to the Florida National Cemetery in Bushnell, north of Tampa.
Chestnut and his wife Kelli have been married 30 years. They have four children.
The Company Driver of the Year will be named at the Truckload Carriers Association's annual convention March 8-11 in Kissimmee, Fla. The TCA will also name the Owner-Operator of the Year.