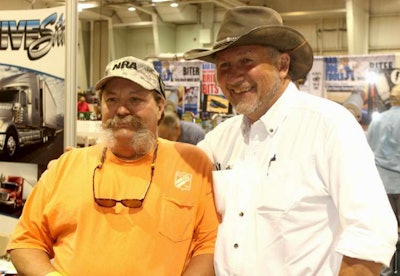 Four things filled the Utz Arena at the York (Pa.) Expo Center as the American Truck Historical Society (ATHS) opened its annual conventionThursday:
1. Dozens of the oldest of the more than 1,200 trucks on display for the gathering
2. A slew of vendors selling everything from T-shirts to "Real women drive trucks" decals
3. Much-welcome air conditioning as opening day temperatures climbed above 80
4. Alex Debogorski's distinctive and booming laugh.
One of the stars of the hit TV show Ice Road Truckers, Debogorski signed autographs and posed for photos with numerous fans attending the convention and truck show that runs through Saturday. Men and women alike — all about the same age as the guy once described as "John Wayne in a truck" — lined up to shake hands. Most told him how much they enjoyed the show.
The TV star's appearance at the show was sponsored by Five Star International.
Debogorski said shooting has wrapped for the ninth season of the show that airs on the History Channel. He says he is unsure when the newest episodes will debut.
During the recently completed shooting, Debogorski drove a new Mack outfitted with a automated manual transmission (AMT). It was his first time with an AMT.
Laughing, Debogorski confesses, "I should have studied the manual, and learned a little more about it."
He says it took some getting used to the AMT, but adds, "It ran well all winter and didn't break down. So, what more can you ask from a truck, right?"
With the show in the can for another season, Debogorski said he is turning his attention to another venture: mining for gold. He said he has or some time held a claim on some property in the Cariboo Mountains of British Columbia, Canada and is anxious to see just what, if anything, pans out.
Debogorski said he also hopes to spend a little time with his own collection of vehicles. His laugh drowns out the announcer on the arena PA and Debogorski says, "I collect things." In fact, he jokes he has a 150 vehicles in his yard at home; among them a 1952 snub nose GMC and half of a Mack B61.
The outgoing Canadian is back at the show today (Friday, May 29) and speaks at the ATHS awards dinner tonight. He'll be signing autographs again Saturday.
The show opens at 8 a.m. today and concludes at 8 p.m.