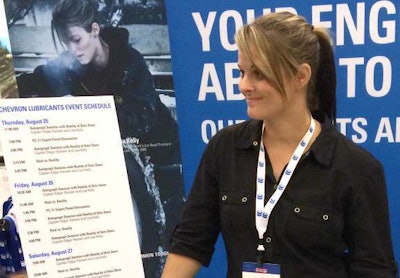 Lisa Kelly needs to have a chat — a serious chat — with her mechanic. For the second week in a row, Kelly made a substantial part of her trek on "Ice Road Truckers" with a "check engine" tormenting her.
Steph Custance, the newest addition to Polar Enterprises' fleet of drivers, made her first ice crossing under the watchful eye of Todd Dewey and the results were inspiring.
Meanwhile, Art Burke got another crack at crossing a frozen lake that not just stymied him last season, but nearly sent him to a watery end.
Lisa & Darrell make a LONG trip
Lisa Kelly and Darrell Ward pressed the boundaries of the ice road geography, and the mechanical limits of Kelly's truck for the second time in season 10 of "Ice Road Truckers."
(BTW: Lisa is signing autographs at the Chevron Delo booth at the Great American trucking Show today and Saturday.)
The business partners loaded up and were convoying to Fort Chipewyan, a 1,200-mile haul from Winnipeg. Starting out, the two knew it would be a longer-than-normal trip. They also figured it might offer some challenges since the route is known affectionately among drivers as "The Death Road."
"I don't like it," said Ward. "I can see why they call it 'The Death Road.' Break down out here and you might never be found."
No worries there, right? Besides, a successful trip would mean the biggest payday of the young company, and Kelly was optimistic.
"If anybody can get this job done, it's me and Darrell," Kelly said.
Shortly thereafter, a check engine light on Kelly's dash started glowing ominously … again. In last week's episode, Kelly had another mechanical issue.
In last night's episode, Kelly and Ward diagnosed that her truck had sprung an oil leak. With no mechanic at hand and six more hours of driving left, the pair decided to press on as best they could and hope for the best.
Their hope was rewarded as they made it to Fort Chipewyan, completing their longest haul ever.
Steph crosses the ice for the first time
New to the Polar team, Steph Custance got a guide for her first ice road drive: Todd Dewey. They were bobtailing to Shamattawa, Manitoba to retrieve two Polar travels left there last season. In the grand scheme of all things on the ice roads, this could have been a comparative walk in the park.
But, Dewey reminded Custance of the weightiness of her first trip during the warmer than normal season across the hardly frozen muskeg.
"You are in for one hell of a rodeo," Dewey said, adding that putting a rookie with no experience on these roads was "a recipe for disaster."
Custance almost agreed before setting out on the 500-mile trip when she said, "I have no idea what to expect." But, as they rolled out, a grinning Custance added, "I'm doing it!"
Along the way, Custance, who will be featured in an upcoming issue of She Drives Trucks, offered some insight into what motivates a 22-year-old single mom to tackle Canada's nastiest driving job: "It's my son. Everything I do in my life I do for my kid."
As the pair pushed north, Dewey decided it was time to chain up for the rest of the trip. That's when his earlier concerns about Custance returned.
"I might not know how to put chains on the tires," Custance told Dewey.
In a big brotherly sort of way, Dewey gave Custance a lesson in how to throw iron the ice road way, but did so with no small amount of fretting.
"That's pretty scary," Dewey said. "She's got high spirits but she's got a lot to prove today."
Custance's biggest test loomed ahead: crossing a lake on which a truck had broken through earlier. Dewey watched from the shore and guided and encouraged her over the CD as she drove with the door open and a symphony of ice cracks and pops was performed by the lake.
After no small amount of dramatic build up, Custance made it to the opposite shore. She stopped and told Dewey, "I just made it to land I think."
The she cried.
"Good job, junior," said Dewey, who later added or her success, "I haven't seen a smile like that on someone's face in a long time."
But, that smile disappeared like the ice road surface on a warm spring day as the pair rolled up to another ice crossing, but one that was barricaded. It was closed a unpassable.
Thursday night's episode ended with Dewey and Custance waiting on the shore.
Art finds redemption
Like Todd and Steph's Art Burke's 500-mile trip to Sachigo Lake, Ontario included crossing the lake he broke through last season. Only some slick backing and a set of hard-working drive wheels kept Burke's truck on instead of under the ice.
Aside from making the trip for Polar, Burke was also looking to cross the lake that sent him packing a year ago.
With Art-like bravado and a bit of bluster, he eyed the lake and said, "I'm gonna conquer this lake and them I'm gonna have it under my belt. This is the one I'm gonna conquer. Away we go!"
Burke's crossing was somewhat uneventful, with more reminiscing about last year's near disaster than swearing at this year's 30-ton trip.
Once he was across and off the ice, Burke was almost as excited as Custance was about her first crossing. Almost.
"I mastered the ice road I couldn't master before," said Burke. "This is sorta fun. I like this."
The History Channel's "Ice Road Truckers" airs at 10 p.m. Eastern and 9 p.m. Central on Thursdays. Check local listings.