Normal folks hate it when a cold front moves in during a typical winter.
Not the drivers on last night's episode of "Ice Road Truckers." They rejoiced … for a while.
Temperatures dropped and firmed up roads that had become soft and rutted because the El Nino parked in the Pacific Ocean kept last winter unseasonably mild. The colder temps also meant some heretofore closed ice roads were open and so was a modest window of opportunity to make critical deliveries.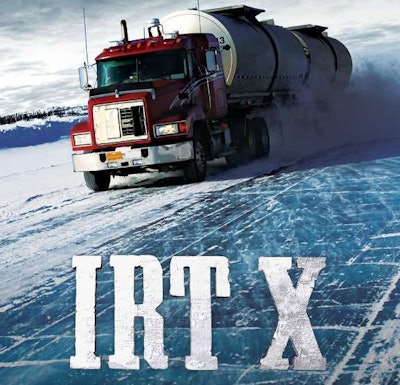 Alex Debogorski: Over the ice with an oversize load
The colder weather firmed up a road to Norway House on the banks of the Nelson River in Manitoba, Canada. Debogorski was on it pulling a flatbed topped with a 16-ton cylindrical fuel tank; a load that the show's narrator Thom Beers called "big, tall and wide."
The veteran ice roader had 300 miles to cover on a road that even with the cold snap had melted down to the muskeg, and an ice crossing that no truck had made.
The rough road made the tank on Debogorski's flatbed a little, shall we say, frisky.
"That load might be trying to fall off," Debogorksi said, his head swiveling between the mirrors and the windshield. "If I watch the load, I can't watch the road."
But, he pressed on, eventually arriving at an ice crossing.
Debogorski proceeded slowly, eventually standing on the steps outside the cab of his orange Kenworth just in case an emergency exit was required.
Unsettling as the trip was, Debogorski still joked: " (You can) almost hear the sharks down there licking their chops."
That was just before Debogorski lost his footing on the icey step, nearly parting company with the KW.
"So much for my low blood pressure," Debogorski said after righting himself and finally reaching the shore and his destination.
Art Burke: "The Wild Card" becomes the Good Samaritan
Colder temperatures meant the trail to Pauingassi, Ontario was open, and Burke was on it with 20 tons of building supplies.
Burke cursed his way along the uneven road until he came to an obstacle: a truck and trailer stuck in the snow, blocking half the road.
He didn't sound happy about it, but Burke lived up to the code of the ice roads and didn't just leave his fellow trucker stranded. He managed to pull around the other truck and jury-rigged a towing strap, which he hooked to his truck and that of his stranded fellow traveler.
"(I'm) not leaving you here, Bud," said Burke. "We're getting you out."
First try: The other truck stayed put.
"That stuck rig ain't going without a fight," said Burke.
Second try: The rigged up strap/chain towing device snapped.
"I didn't go through all this to throw in the ****ing towel," he said.
Third try: The tow line holds. Both trucks strain. Art extricates the stuck truck.
"Alright, buddy!" said Burke and headed down the road to Pauingassi … but not without another minor hiccup.
Driving the last 50 miles in the dark ("I can't see a thing!"), Burke suddenly noticed he was no longer on an ice road, but was, in fact, driving on a frozen — mostly — lake.
Inching along, Burke made it back to solid ground, and when the sun came up, the grateful folks of Pauingassi unloaded his truck.
Darrell Ward: Road to Cat Lake more like obstacle course
With 18 tons of insulation on board, Ward hit the road for the First Nation village of Cat Lake, and the road hit back.
Narrow, twisting, hilly and, of course, rugged, Ward was driving over more of a suggestion of a road than a real one. But, the Montana Legend pushed on, if warily at times.
At one point, Ward got his trailer hung up in the snow alongside the trail. At another, he had to finesse his way around a tight turn. And, then there was the bridge, a narrow one.
Ward eased over the wooden bridge, only to come face to face with a 14 percent grade; a slippery one.
After stalling on the hill, Ward grabbed a higher gear and coaxed his truck up the hill.
"Come on, girl, we're almost to the top," he said.
His Mack made the grade and he got to Cat Lake.
"Just like that," said Ward. "That's how we do it up here."
Todd Dewey: An ice road bridge too far or just too soft?
Having unloaded in Muskrat Dam, Ontario, Dewey was anxious to put 300 miles of return trip behind him before the road home closed. But, that road surface had melted, refrozen and had a bit of snow on it.
"It's one slick SOB out here," said Dewey.
That slickness turned to softness when Dewey tried crossing an ice bridge — essentially snow pushed into a creek to create a temporary crossing — that had seen better days. Half way across, Dewey's truck came to a halt.
Quickly and without much commentary, Dewey chained up and was ready to rock … for real.
Rocking his rig back and forth, Dewey got unstuck from the ice bridge and hustled home.
"We made 'er," said Dewey. "I don't know how, but we did."
Then Dewey added what may be the fundamental truth of the show and driving the Canadian ice roads: " One thing you can be certain about up here is you can't be certain of anything."
The folks at the History Channel can be quite the flirts. At the end of last night's episode, a preview for next week's episode featured Polar Enterprises owner Mark Kohaykewych in the cab of the truck of his business rival Darrell Ward. And, it showed that cab starting to fill with smoke.
"Ice Road Truckers" airs Thursdays at 10 p.m. Eastern and 9 p.m. Central on the History Channel. Be sure to check local cable listing.