All in all, last night's episode of the History Channel's reality show "Ice Road Truckers," did not include many bright and shiny moments for the truckers.
Two drivers plowed on to their final destinations, while another had their trip cut short; one faced an even great indignity.
Lisa Kelly: A big gamble for a big payday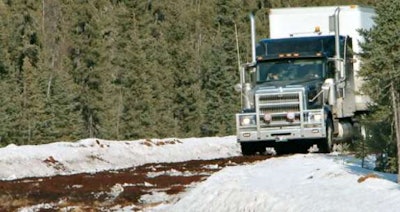 With travel on the rapidly deteriorating road to Sandy Lake becoming less and less certain, Lisa Kelly had high-dollar last-minute run to make. But, of course, it was not going to be easy.
"I've never seen it this falling apart," said Kelly, her truck bucketing over the muddy road. "Hope I can just make it."
Kelly's strategy was simple: don't get stuck. She aimed her truck down the middle of the road.
"It's going to be hard to not go in the ditch," she said.
And, it wasn't much easier when she can to the ice crossing over South Trout Lake.
"I don't have a choice," Kelly said looking out at the water-covered surface of the lake. "I've got to go across. That's all there is to it. If it's not safe, I guess we'll find out."
With her tires sending up a wake, Kelly motored over the lake, but worried when she came to the other side where the ice was at its thinnest.
With tires now spinning, Kelly said, "I cannot get stuck here."
And, she didn't.
But, with 20 miles to go, all was not peaches and cream for Kelly.
The last stretch of road was wet, rutted, bumpy, and, oh yes, there was a hill.
In order to make the incline, Kelly had to add some speed, making the bouncing and bucking even worse.
"Damn it," said Kelly. "It came out of gear again."
Still, Kelly crested the hill and eventually rolled into Sandy Lake, for what narrator Thom Beers said was her biggest payday of the season.
"Oh, my gosh, I made it," said Kelly with no small sense of relief.
Alex Debogorski: The Preacher Man shows why prayer pays
Alex Debogorski makes no secret about his faith. He prays on camera and often thanks the Lord for getting him home in one piece.
Often his prayers are simple. Like this one: "Help us have a good day today."
With the muskeg falling apart under his flatbed's load of lumber for St. Theresa Point, Debogorski headed out on the road he described as: "hills, slippery and holes filled with water." And, there were rumors of rain.
"A guy's got to be on the ball to drive this," said Debogorski.
That was when he came to the creek across the road. At one time, the creek had been frozen and easily crossed. Not now.
After surveying the creek and poking into it with a small tree branch, Debogorski was back in his screaming orange Kenworth, which he aimed for the middle of what truly was nothing more than a super-sized Slushie.
After crossing himself, Debogorski headed across the creek — "Spinning. Spinning. Spinning." — and onto the other side … where he cut a corner too close and got stuck.
"That's not cool," Debogorski said, overstating the obvious.
His only choice was to back up through the creek and take a second — more cautious — run, which he did successfully,
"Thank you, Lord," he said.
Still, Debogorski had some 30 miles to go, of which he said, "Legitimately not feeling good about this trip."
And, for good reason.
As his truck and trailer bounded along the road, so did the lumber and eventually some fell off.
"That was a really close call," he said picking up the stray lumber, then logging the last five miles and delivering his load.
"The customer doesn't care how much drama I went through," he said. "They just want" the supplies.
Art Burke: A first for this veteran driver
The man of a thousand expletives, Polar Enterprises' Art Burke had a load of lumber that needed to get to Elk Island in Manitoba. But, first he had 200 miles of highway driving before even starting his 400-mile long ice road journey.
Cocky or cautious, Burke showed off a new set of chains he had in his cab as he drove.
Those chains would never get a chance to bite into the snow/mud of the road to Elk Island.
Burke rolled up to the entrance to the ice road only to be greeted by the sight of two parked trucks. The news was bad: The road was closed … for at least the next four days.
After consulting by phone with his boss Mark Kohaykewych, a downcast Burke was heading home still fully loaded.
"First time I never completed the mission," said Burke. "Guess I'm not going to put this one under my belt."
Todd Dewey: First a leaf spring, then a rock, then …
When last week's episode ended, Polar's Todd "Top Dog" Dewey had his trip to Big Trout Lake seemingly ended by a broken leaf spring on his truck.
But, he tapped into his inner MacGyver and wrapped a tow strap around the broken spring and pushed on, albeit gingerly.
"(I'll) keep my fingers crossed and hope for the best," said Dewey and he limped along with 20 miles to go. "I know how important these loads are for these communities."
Dewey made good on his promise to get the goods to the nice folks of Big Trout Lake, and then turned to make the 500-mile drive back to Winnipeg.
"I've never seen so many soft spots in a road before," said Dewey. "It's an indication the season is almost over."
In retrospect, Dewey may have wished he had kept that to himself.
Out of nowhere, the camera in Dewey's cab seems to tumble, go black and cut out.
The next thing viewers saw was anti-freeze streaming out of the front of Dewey's truck, adding insult to the literal injury of the broken leaf spring. Dewey hit a rock, ending his troubled trek.
All he could do was call for a tow, wait six hours and be carried home by another truck.
"Never seen a season as brutal as this," Dewey said. "It's the first time I was defeated by a road."
"Ice Road Truckers" air at 10 p.m. Eastern and 9 p.m. Central on the History Channel. Check local listings.