National Truck Driver Appreciation Week is under way, and fleets, organizations and supporting companies have a variety of celebrations planned from Sunday, Sept. 11 through Saturday, Sept. 17.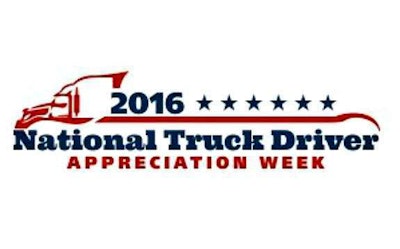 Established by the American Trucking Associations, National Truck Driver Appreciation Week has been a tradition since 1988.
"Truck drivers provide one of the most important services to this country — the timely delivery of critical goods — and the American people demand more and more from these hard working men and women each day," said ATA President and CEO Chris Spear. "As an industry, we want to recognize and thank drivers for the work they do and for making safety a priority."
The Port of New Orleans will celebrate National Truck Driver Appreciation Week with a series of events.
Appreciation breakfasts will be served on Monday, Sept. 12 and Friday, Sept. 16 from 7 a.m. to 9 a.m. at the Port's Nashville Avenue Circle Building. On Wednesday, Sept. 14, jambalaya and hamburgers will be served from 11 a.m. until 2 p.m., also at the Circle Building.
Partner sponsors for Port NOLA's driver appreciation events include BIS Construction and Ship Services, Community Coffee, Crescent Transport, New Orleans Terminal, Penske, Ports America and TCI.
"Truck drivers play a pivotal role in both the Port's success and the vitality of the region's economy," said Port of New Orleans President and CEO Gary LaGrange. "We are grateful for the dedication and professionalism they demonstrate every day."
ABF Freight celebrates National Truck Driver Appreciation Week with employee appreciation events at our 245 terminals.
"I want to extend my personal appreciation and thanks to all ABF Freight employees who serve our customers with excellence and integrity," said ABF Freight President Tim Thorne. "At this special time, we are proud to show our appreciation with events designed to honor our employees. Our leadership team will be attending these events and will have the opportunity to meet and personally thank employees for their continued service."
ABF Freight also recognizes employees throughout the year through safe driving certificates, plaques and other awards. Through training and recognition programs, ABF Freight supports our employees as they promote safety and increase public appreciation of the trucking industry in everything they do to serve our customers.
Universal Lumpers, which has teams in more than 50 distribution centers across the country, will show their appreciation for drivers with verbal acknowledgement by UL team members, trivia games, raffle entry for a $100 gift card, a free travel mug, coffee and doughnuts.
A. Duie Pyle will highlight its drivers on the company's social media accounts every day during the week.
Fyda Freightliner Pittsburgh, Inc. is offering its customers complimentary sweets and coffee during their visits. They will give out a daily "Fyda Freebie" gift, with each gift being different. Customers may relax in the lounge, meet with Fyda staff and request a tour of the facility.
Swift is celebrating its drivers with a company-wide celebration that will include activities at all Swift terminals, giveaways and gifts. The company will host a 50th anniversary celebration at its corporate headquarters in Phoenix on Sept. 15.
Boss Truck Stops: All 43 Boss Truck Stops locations will host free barbecues for truckers during NTDAW. A full schedule of the barbecues with days and times during the week can be seen here.