There's no denying that things are changing in the U.S. trucking industry … as they always have. There's new regulations, new technology and even the prospect of trucks that pretty much drive themselves once on the highway.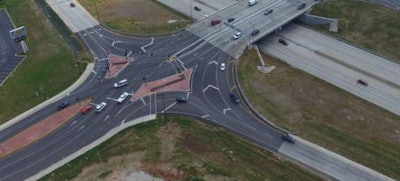 Even the roads on which you drive are changing. Writing on "Equipment World's Building Better Roads", Chris Hill writes:
"U.S. interchanges are undergoing a design shift; from the stale, split-phase, head-to-head configuration to high-volume, semi-continuous designs such as diverging diamond interchanges (DDI) and roundabouts.
"Part of the impetus for this is the need to accommodate expanding numbers of motorists, as traffic volumes steadily increase. For the first six months of 2016, the vehicle miles traveled in the United States reached a record high of 1.58 trillion miles. That's a staggering figure, and coupled with the fact that existing interchanges are more or less landlocked in their position, gives credence to the argument that intersection design needs a rethink.
"This is where interchanges, such as DDIs, fit in. Their designs eliminate conflicting left turns needed to clear opposing traffic, a feature that inherently improves safety and keeps traffic flowing."
Read the complete story on Equipment World's Building Better Roads.