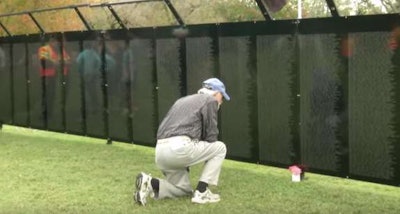 USA Truck will participate in transporting The Wall That Heals, the rolling Vietnam Veterans Memorial, this week and next as part of a national tour.
The Wall That Heals is a mobile replica of the Vietnam Veterans Memorial in Washington, D.C. Here is where the wall can be seen this year.
Mark Buckley, a USA Truck driver, picked up the trailer Sunday, April 23, and will take it to the company's Van Buren, Arkansas headquarters for a two-day layover before heading to Bridgeport, Connecticut, for a May 4 event. Buckley served in the U.S. Navy for 8 years.
"We are honored to serve the Vietnam Veterans Memorial Foundation by providing safe transportation of this important display. Serving veterans is a priority for USA Truck," said President and CEO James D. Reed.