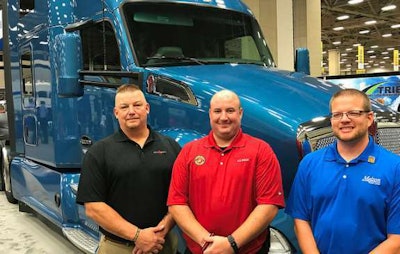 Three military veterans who are now company drivers were named finalists in a contest in which they could win a new, fully-loaded Kenworth.
The top three finalists in the "Transition Trucking: Driving for Excellence" recognition program were named as America's top rookie military drivers at the recent Great American Trucking Show in Dallas.
The finalists include:
Wayne Roy (Marine Corps) who drives for U.S. Xpress
Daniel Shonebarger (Navy) who drives for Melton Truck Lines
Gregg Softy (Army) who drives for Stevens Transport
Shonebarger was also named Trucking's Top Rookie in the contest presented by Truckers News at GATS.
The winner will be announced in December in Washington, D.C.
For the second consecutive year, Kenworth will donate The Driver's Truck – a fully-loaded Kenworth T680 Advantage with a 76-inch sleeper and PACCAR MX-13 engine — to serve as the program's recognition award.
Other drivers recognized at GATS that made the Top 10 list of finalists are:
Mary and Larry Berman – (Mary: Army National Guard and Reserves; Larry: Coast Guard and Army). Carrier: U.S. Xpress
Sean Harding (Army). Carrier: Stevens Transport
Christopher King (Air Force). Carrier: TMC Transportation
Britney Motes (Army). Carrier: Werner Enterprises
James Rogers (Army). Carrier: Prime, Inc.
Robert West (Air Force). Carrier: Werner Enterprises
"We have a very elite group of drivers who have achieved significant accomplishments in their military careers and as professional truck drivers," said Brad Bentley FASTPORT president. "It is important for organizations across the United States to do what they can to especially reach out to our veterans to help them make a smooth transition back into civilian life. This is one way that the trucking industry is doing its part."
Drivers were nominated by trucking companies that made a hiring commitment and pledge to hire veterans or, by members of the National Association of Publicly Funded Truck Driving Schools, or Commercial Vehicle Training Association-member school.
"We are again donating a T680 Advantage as our way of thanking our military veterans for their service," said Kurt Swihart, Kenworth marketing director. "It is important for the trucking industry to provide career opportunities and support to those who have served and made sacrifices for our country."