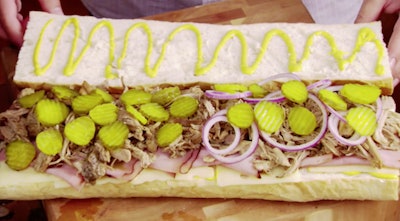 Whether you're looking for a snack or a light dinner, Food Network's Jeff Mauro, from the network's Sandwich King show, has a Cuban sandwich recipe that'll work.
The recipe makes enough servings that you can divide it up into smaller snack sizes or pair it together with a side dish for an easy lunch or dinner. Mauro uses pork shoulder cooked with cumin, oregano, black pepper, red peppers, lime juice, orange juice and other flavors.
The recipe cooks in about 6 hours and 20 minutes and yields 6-8 servings.
See the complete ingredients list and cooking instructions on Food Network.