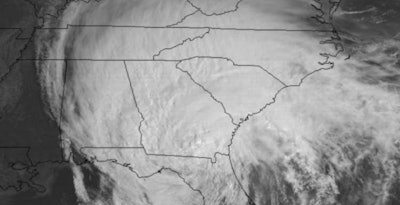 UPDATE: While Irma has been downgraded to a tropical storm today, and is expected to become a tropical depression Tuesday, it still remains, according to weather officials, a dangerous storm that is spreading high winds, rain and flooding over much of the Southeast.
In light of that, the Federal Motor Carrier Safety Administration has expanded its existing emergency declaration (see details below) to cover the states of:
Arkansas
Illinois
Indiana
Kentucky
Missouri
Ohio
The Washington Post is reporting that as Irma heads in a northerly direction, "tropical-storm-force winds and hurricane-force gusts were possible over a large area from North Florida through eastern Alabama, much of Georgia and southeastern South Carolina. These winds could bring down trees and cause power outages."
At last count, four people have died in Florida because of Irma. The death count for the Caribbean stands at 27. Some 6.5 million people remain without power.
Our original story:
The outer bands of Hurricane Irma, which the National Hurricane Center labeled an "extremely dangerous major hurricane", arrived in Florida this morning as 5.6 million people have been asked to evacuate and the U.S. trucking industry and first responders are poised to react.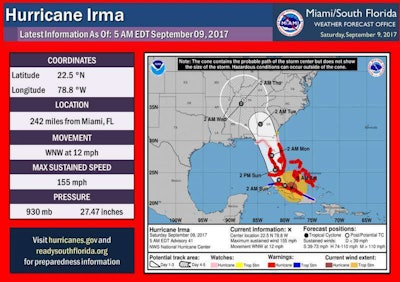 In response to the storm the Department of Transportation issued a Regional Emergency Declaration for Florida, Georgia, South Carolina, North Carolina, Tennessee, Alabama and Mississippi, Puerto Rico and the U.S. Virgin Islands. The declaration suspends hours-of-service regulations for drivers and carriers in the states above providing "direct assistance" to the affected areas, even if the states are not involved in the emergency.
The declaration does not exempt drivers from CDL, drug and alcohol, hazmat, size and weight or registration and tax requirements, according to the DOT.
Also, the Federal Motor Carrier Safety Administration will not enforce the Temporary Operating Authority Registration fee for carriers requesting temporary operating authority. Normally, a $300 fee is required. The agency will end the fee waiver when the Regional Emergency Declaration expires.
The massive evacuation has caused traffic congestion and fuel shortages.
Some 800 tractor trailers loaded with FEMA relief supplies have staged up at Maxwell Air Force Base in Montgomery, Alabama, according to AL.com.
The storm's outer bands were hitting the Florida Keys on Saturday morning, with winds of up to 130 m.p.h., and the eye of the storm is expected to hit southwest Florida and Tampa on Sunday.
The National Weather Service is warning of "life threatening storm surge flooding" in the Florida Keys and parts of southern and central Florida. Much of the state is expected to get between 10 and 20 inches of rain. The Weather Channel is reporting that some storm shelters in Florida are already full and that some 30,000 residents in south Florida have lost power.
Georgia and South Carolina are under a hurricane watch, according to the weather service.
You can get detailed storm developments at:
The Florida Trucking Association has information drivers may need.