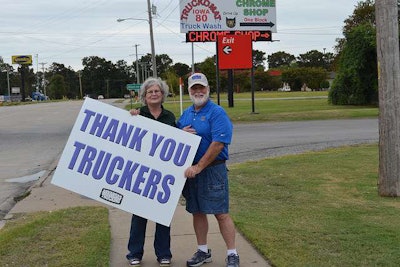 In keeping with an 18 year tradition, the Arkansas Trucking Association Wednesday, Sept. 13, provided truckers free lunch, refreshments, and games at the TA Petro Stopping Center on I-40 as part of Truck Driver Appreciation Week.
"National Truck Driver Appreciation Week is a time to recognize the individuals that move freight across our country every day. It's so important that they know we see and appreciate the dedication and sacrifice it takes to deliver our goods, rain or shine," Arkansas Trucking Association president Shannon Newton said in announcing this week's events.
"Truck drivers should be celebrated every day, but too often, their contributions to our communities are overlooked," Newton continued. "It is important to remember truck drivers' enormous impact on our way of life because in 2017, there's almost nothing we use that wasn't once loaded onto a truck and driven to our homes, stores, schools, hospitals and churches. This very week, drivers are carrying relief to devastated communities in Texas and Florida. We owe so much to the men and women behind the wheel."
The association was assisted by: ABF Freight; Aon; Ben E. Keith; CalArk International; C.C. Jones, Inc.; Concentra; Cummins Sales and Service; FedEx Freight; Great West Casualty; HELP Inc.; J. J. Keller & Associates; Loggins Logistics; Maverick Transportation; McKee Foods Transportation; National Medtest, Inc.; PLD Transport; Stallion Transportation Group; TA Petro; Tyson Foods; University of Central Arkansas; Wright, Lindsey & Jennings; and York Risk Services Group.