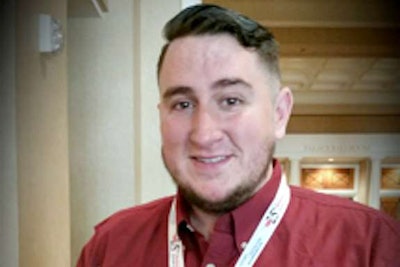 Maverick Transportation company driver Ron Kneeland III was having a normal night back in May, checking back and forth in his mirrors, when he saw a car hit the semi-truck behind him and burst into flames. Kneeland instinctively put his flashers on and maneuvered safely off the road, then got out and ran toward the car.
"I ran all the way back there and about halfway to the car, a pickup truck pulls over. The guy gets out and he runs back with me. He was trying to open up the driver's side door so I ran over to the passenger's side and used the fire extinguisher from my truck to try and put the flames down a little bit," Kneeland, from Killeen, Texas, said.
The fire extinguisher went out quickly, so Kneeland ran back over to the driver's side. The pickup driver had managed to get the door open, and together they pulled the car's driver to safety away from the burning vehicle.
"It was pure adrenaline at the time. My first thought was, man, I need to go help this guy, you know? Just go and do it. When it's all happening, it's pure adrenaline just to make sure everybody is safe and make sure nobody else is in the car and get the guy help," Kneeland said.
Kneeland was recently recognized for his heroics with the Trucking Industry Defense Association's (TIDA's) Hero of the Highway award. The award is given out annually to a CDL holder to honor who has demonstrated heroic behavior and extraordinary public service.
"I wasn't looking for any type of recognition or anything. Just to be nominated by my company, and then to have actually won it and have them take me up their in front of their whole organization, that was amazing," Kneeland said.