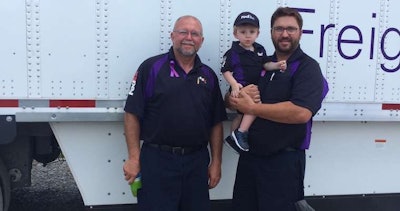 FedEx Freight driver Jeremy Thomas has only been competing in the West Virginia Truck Driving Championships for two years but he's already earned two hefty titles: 2017 Rookie of the Year and 2018 Grand Champion.
While Thomas only recently started competing in the trucking championships, he's been a trucker for 13 years, with nine of those spent at FedEx. His father, Randy, is also a truck driver for FedEx and a regular competitor in the West Virginia championships.
"My dad is a truck driver and he was always my role model growing up. I pretty much knew from an early age that I wanted to do exactly what he did," Thomas said.
He decided to start competing as a way to spend more time with his father while also challenging himself as a trucker.
"The whole reason for the truck driving championship is to become a safer, better, more professional driver, and that's something I've really been striving for. My dad has competed for several years and we just thought it would be a great way to spend some time together and have this common goal to go after. We just thought it would be really enjoyable," Thomas said.
The two have been able to help each other and push one another. They regularly train together. Randy placed first in West Virginia's 4-Axle class this year, so the father and son duo will be heading to the National Truck Driving Championship together. The national competition is set for Aug. 15-18 at the Columbus Convention Center in Columbus, Ohio.
Thomas said being named Rookie of the Year last year and then Grand Champion this year is an honor. He also won first place in the tanker class this year.
"In West Virginia, we have a lot of highly skilled, experienced competitors in the TDC. Any time you can go out there and compete with professional drivers like that and earn a Rookie of the Year and then earn a Grand Champion, it's just a great honor," Thomas said. "Our hard work paid off and that's a good feeling."
Thomas encourages every professional driver to try competing at least once. He recommends aspiring competitors find a mentor who has experience at the state trucking competitions and ask them questions and see how they prepare for the competitions.
"Go through it, see what it's about, and then take those experiences and try to become a better and more professional, safe driver," Thomas said.
Now that Thomas and his father have reached their goal of going to the national competition together, they just want to continue improving and hopefully go to nationals again next year.
"We just want to get better. We want to be safer out on the road every day. We want to just improve when we come back to states next year and hopefully we'll both be back at nationals next year," Thomas said.