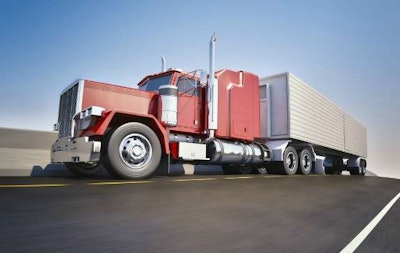 As the demand for freight transportation services has increased, so has the pay for the drivers making the deliveries.
That's according to the American Trucking Associations' latest survey of carriers and more than 100,000 drivers.
"This latest survey, which includes data from more than 100,000 drivers, shows that fleets are reacting to an increasingly tight market for drivers by boosting pay, improving benefit packages and offering other enticements to recruit and retain safe and experienced drivers," said ATA Chief Economist Bob Costello.
According to the ATA, the median salary for a truckload driver working a national, irregular route was over $53,000. That's a $7,000 — or 15 percent — increase from the association's last survey, which covered annual pay for 2013.
Pay increases were even better for private fleet drivers. The ATA data show they saw their pay rise to more than $86,000 from $73,000 in 2013, a gain of almost 18 percent.
"This data demonstrates that fleets are reacting to concerns about the driver shortage by raising pay and working to make the job more attractive," he said. "I expect that trend to continue as demand for trucking services increases as our economy grows."
In addition to increasing pay, Costello said fleets are also offering signing bonuses and benefit packages to attract and keep drivers.
"Our survey told us that carriers are offering thousands of dollars in bonuses to attract new drivers," Costello said. "And once drivers are in the door, fleets are offering benefits like paid leave, health insurance and 401(k)s to keep them.
Truck driver pay and the shortage of drivers were discussed recently by Stuart Varney of Fox Business and Owner-Operator Independent Drivers Association Acting President Todd Spencer. Reporting on the interview for our sister publication Overdrive, News Editor James Jaillet wrote:
"Shortly after introducing Spencer — and before even asking a question — Varney espoused his own suspicions as to why he thinks there's a driver shortage. "It's because you can't find guys or people with clean records who can pass a drug test. That's the problem is it?"
"Spencer laughed, noting a "more beneficial reply is that pay for drivers has been falling for decades, while the demand and responsibilities of the job have been going exactly the opposite. It will always be difficult to find people to do jobs that are hard that don't really pay much," he said. Varney continued to push his point, to little success with Spencer backing it. Spencer said higher driver pay — and more respect for drivers — could lure more people to the driving job."
Here's the segment as it aired: