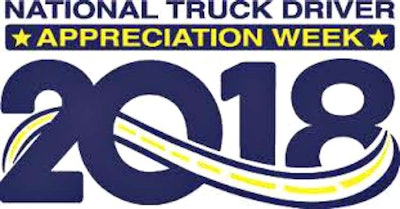 Don't be surprised if everyone from your dispatcher to shippers and receivers and strangers on the street seem to be nicer to you in the week ahead.
They should be all the time, but especially now since it's National Truck Driver Appreciation Week, Sept. 9-15. All this week fleets will honor their drivers in many ways, and major truck stops and restaurants will show their appreciation with discounts. And, all week long, Truckers News will feature more of the recipients acknowledged in i Luv My Trucker.
See all of the drivers singled out by friends and loved ones in i Luv My Trucker.
Industry-wide, the American Trucking Association is promoting the work of the men and women behind the wheel in several ways. The ATA's Trucking Moves America Forward promotional campaign has taken billboards in 12 cities, is providing graphics to post on social media and has spots running on Red Eye Radio and the Dave Nemo show.
Dart Transit: Dart is recognizing its truck drivers with the production of a podcast featuring members of the Dart office staff commenting on the role company drivers and owner-operators play in moving the American economy. The Dart Network Podcast interviewed employees in different departments to get their thoughts on NTDAW and what they enjoy most about working with truckers. The company has also planned a schedule of lunch events for drivers at its terminals across the country.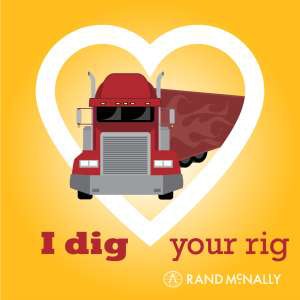 Rand McNally: National Truck Driver Appreciation Week is the perfect time to thank a trucker. Rand McNally has created a series of free e-cards — available online here — you can use on your Facebook timeline, someone else's, or print them out and give them to someone the old fashioned way, according to Rand McNally.
Southern Recipe: Pork rind maker Southern Recipe is giving drivers a chance through Sept. 15 to vote on their favorite in-cab recipe and win $2,000 in the 7th annual Pedal to the Kettle contest. The winner will be announced during Truck Driver Appreciation Week. Southern Recipe will also donate $2,500 to the St. Christopher Truckers Development and Relief fund during that week, Sept. 9-15.
Pilot Flying J, Love's Travel Stops, TA Petro, Denny's: These major truck stop chains and restaurant are showing their appreciation for truckers not just this week but for all of September. See what each is doing.
Indiana State Police Commercial Vehicle Enforcement Division: The ISP's Terre Haute location is partnering with Great West Casualty Insurance and providing free items and lunch for drivers Monday.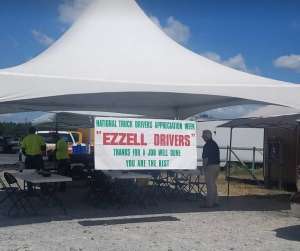 Ezzell Trucking: This North Carolina family-owned carrier celebrated with steak cookouts its men and women behind the wheel at its Franklin Virginia, Garysburg North Carolina, and Wilmington North Carolina last week. This week, they'll recognize drivers in Dudley, Ayden, Ahoskie and Harrells, North Carolina.
California Trucking Association Central Coast Unit: The CTA holds its annual Trucker Appreciation Event Tuesday from 11:30 a.m. to 1:30 p.m. at the Gilroy Inspection Facility (12000 S. Valley Freeway in SanMartin). There will be free food and refreshment as wellas displays and information available.
Greater Chicago I-55 Truck/Travel Plaza: This truck stop in Bollingbrook, Illinois holds its annual Driver Appreciation Days Sept. 19 and 20.
Swift Transportation: In a Facebook post, Swift said, "We're planning more for our drivers than we ever have — this year is going to be the biggest celebration yet! Expect free meals, tons of free giveaways, raffles, vendors, truck competitions, games, and more taking place every day, all week long, exclusively for our drivers!"
Maine Professional Drivers Association: MPDA, in conjunction with the Maine State Police Commercial Motor Vehicle Enforcement Unit, will hold a driver appreciation lunch on Monday, Sept. 10. Truckers are invited to a free lunch at the York Scale Facility from 11 a.m. to 2 p.m. During the luncheon, officers will set up a full Level I inspection demonstration on a demo truck and answer any questions about inspections. There will be no regular inspections on trucks or drivers coming in for lunch.
If your fleet, company or association holds any Truck Driver Appreciation Week activities, send along the details to davidhollis@randallreilly.com