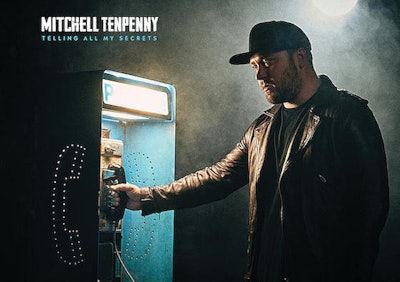 Country newcomer Mitchell Tenpenny is offering fans full honesty on his upcoming debut album Telling All My Secrets. The album name was inspired by its tenth track, which sports the same name.
Tenpenny's 11-track debut album is due out Friday, Dec. 14. He co-wrote each of the album's tracks.
After his album release, Tenpenny is set to tour with Old Dominion on their 2019 Make It Sweet Tour.
The album is available for preorder on Amazon and iTunes.
The album's tracklist:
1. Truck I Drove In High School
2. Alcohol You Later
3. All On You
4. Goner
5. Chance Worth Taking
6. I Get The Picture
7. Drunk Me
8. Somebody's Got Me
9. Somebody Ain't You
10. Telling All My Secrets
11. Walk Like Him