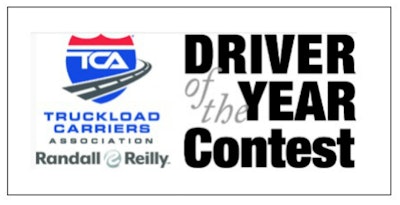 Editor's Note: Two men and a woman are finalists for the Company Driver of the Year Award presented by the Truckload Carriers Association with Truckers News. The winner is announced Tuesday, March 11 during the annual awards banquet of the TCA convention at the Wynn Las Vegas Resort. The contest is sponsored by Love's Travel Stops and Cummins, Inc. The winner receives $25,000. The two other finalists receive $2,500 each. Here are the details of one of the finalists.
Ester Nemeth knows that being a truck driver and a woman behind the wheel brings with it certain expectations and responsibilities. She's happy to shoulder both.
Nemeth, who lives in Winnipeg, Manitoba, Canada, drives for Bison Transport, also located Winnipeg. She has amassed 2 million consecutive safe miles driving for Bison during a time of change in the industry.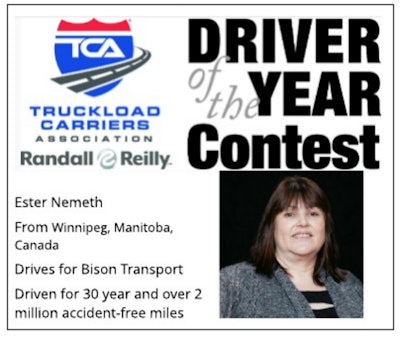 "I have been a professional truck driver for over 30 years," said Nemeth. "I have seen how the industry has changed and grown for the better. Being a professional driver means you are always a mentor. Whether it's helping another driver with a load issue or helping a citizen that is stuck on the side of the road. I believe that I am always representing the industry when I am in my truck. Many people have a certain image of what a truck driver looks like, acts like, etc. I am hoping to help break those old stereotype images."
Was hasn't changed is the importance of safety and Nemeth's approach to it.
"I have always believed that you should always think about everything and everyone around you," she said. "Be prepared for what may come up. Stay in the moment and that is how I have reached over 2 million consecutive safe driving miles with Bison."
Hers is a common sense approach to safe driving. She said she respects the laws of the road and ensures her truck and trailers are well maintained.
"Proper pre-trips, vehicle checks, and post-trips are done," she said. "When your equipment is in good shape then you know that your journey down the road is safe for you and everyone you share the road with."
Nemeth has a similar outlook about her health and wellness on the road. She said it's easy to form bad eating habits while on the road and not get enough exercise. While she adds that Bison has installed gyms at some of their terminals and truck stops now offer salads and other healthy choices, it took an extra effort to get her to focus on her health.
She participated in the 2012 TCA weight loss showdown, eventually becoming the team captain for Bison. She said it was a beneficial experience personally, and "knew that this was a huge leap in the industry to recognize and figure out new ways for drivers to be healthy on the road."
Nemeth said it helped her look at what she was eating on the road and encouraged her to get moving whenever she could. She said she has also started pre-planning her meals for each trip. This keeps her from making what she called "some not so great meal choices."
All of this has impressed Nemeth's boss.
"We are extremely proud of Esther and her career of achievements," said Rob Penner, president and CEO of Bison Transport. "She embraced the culture of safety and what it means to our industry as a whole. She is a true professional driver and we are privileged to have her representing both our company and our industry."
Garth Pitzel is Bison's director of safety and driver development. He recalled a conversation he had with Nemeth as she was about to become the first woman driver at Bison to reach one million accident-free miles, and how she was leading the way for other women in the company.
"Well, I guess you could say has taken flight and been soaring since," said Pitzel. "She has certainly become a leader for all our female drivers. She believes that we need to support and develop the next generation of professional drivers, especially women."
The other two finalists are:
Don Lewis, is from Republic, Missouri, and drives for Wilson Logistics, of Springfield, Missouri
David McGowan, is from Marinette, Wisconsin, and drives for WEL Companies, Inc., of De Pere, Wisconsin
TCA and Truckers News' sister publication Overdrive will name an owner-operator of the year. Those three finalists are:
Danny Jewell, is from Nebraska City, Nebraska, and is leased to Warren Transport, Inc. of Waterloo, Iowa

Kevin Kocmich, is from Litchfield, Minnesota, and is leased to Diamond Transportation System, Inc. of Racine, Wisconsin

Robert Roth, is from Coldwater, Ontario, Canada, and is leased to Erb International of New Hamburg, Ontario, Canada
The finalists and grand prize winners are selected based on their ability to operate safely on public highways, their efforts to enhance the public image of the trucking industry, and their positive contributions to the communities in which they live.